EL PAÍS launched an investigation into pedophilia in the Spanish Church in 2018 and has an updated database with all known cases. If you know of a case that has not seen the light of day, you can write to us at: [email protected]. If it is a case in Latin America, the address is: [email protected].
─────────
The Jesuitas de Casp school, in the center of Barcelona, ​​is shocked by the case of abuse by Francesc Peris, a religious who spent three decades at the school, until he was dismissed in 2005 for "inappropriate conduct", and who has also been denounced in Bolivia. But he is not the only teacher accused. EL PAÍS, as part of its investigation into pedophilia in the Spanish Church, which began in 2018, has collected testimonies over the years against eight other teachers at the center, from the 1950s to the 1980s.
The Jesuits have known almost all of them for months, through the first two reports that this newspaper delivered to the Vatican and the Episcopal Conference, in December 2021 and June 2022. The Company explains that it has investigated all the cases reported by this newspaper. "as far as we could". He affirms that they only had evidence of one, that of Francesc Peris. Of the rest, four of them had died and they have found nothing in the archives or in interviews with those responsible for those times. They point out that the only way forward is for potential victims to write to them.
However, another of the Jesuits, charged for an episode in 1984, was alive: "A canonical process was opened. He acknowledged the facts. There were no more accusations, and the process culminated with restrictive measures. But the order refuses to reveal which Jesuit it is. "We maintain our policy of not giving names," they explain. In the United States, by contrast, the Company has published lists with dozens of names of religious men who had received credible accusations.
A seventh case is public: one of Casp's primary teachers at the beginning of 2000 was Jordi Alonso, who left the school and is now in jail, sentenced to 30 years in prison in 2016, for abuse of six girls in a school from the Montseny area between 2011 and 2013. The Jesuits do not clarify whether their "sudden" departure from the school, according to the testimony of a former student, was due to any accusation and whether they received any at that time.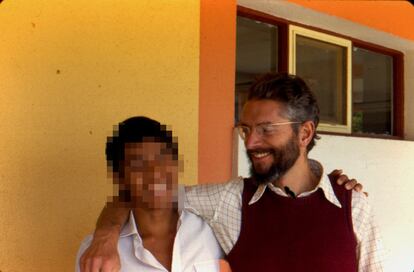 Total transparency was the main demand of the 234 students who on Monday made public a protest letter sent to the order, in which they considered it "extremely serious" that the Society of Jesus "has not acted decisively to facilitate the investigation to the media." They judge the response of the order, which announced that it is reviewing the Peris case, of "insufficient, more of the same."
This weariness has brought to light an eighth case: it has led Marta Herreras (Barcelona, ​​47 years old), a student in the eighties, to take the step of accusing Eudald García Cots, also pointed out by another student from those years. "Everything caught me off guard. I started reading all the school news last week, and this name didn't come up. When I was nine or ten years old, I told my mother: Eudald calls us into her office, sits us on her lap and asks us questions, "she recounts. It happened to her for two years until she told it, between 1986 and 1988. "We discussed it with our friends. In my case, her hands went from her hips to her breasts. My mother told me that she did not have to touch me. We asked my sister and she did the same. My mother and another mother went to talk to the director. Then Eudald didn't call me anymore".
Sofia, the fictitious name of another student who does not wish to be identified, is surprised that there are not many more complaints against this Jesuit. "When the news about Cesc Peris, who has never done anything to me, was published, I recounted through a former student chat what had happened to me with this other one, and five other people said 'to me too'. If he pulls on the thread, more will come out. He was a pervert." She was between 12 and 13 years old in the 1989-1990 academic year, when she affirms that she was the victim of groping by García Cots. "His pattern of him was always the same: he would call me to his office, I would sit on his lap. While we talked he touched my breasts, which at that moment were beginning to grow. I never told anyone, but he knew that it was wrong, because he asked me for forgiveness several times after doing it, apologizing that he had done it unintentionally ". Sofía assures that both the director of the moment and the adults of the school knew it.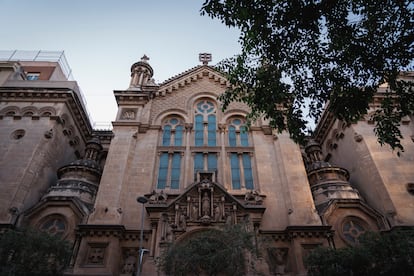 Facade of the church of the Jesuit College of Casp in Barcelona. Gianluca Battista
The Jesuits, the order to which the Pope belongs, are the congregation that accumulates the most cases of abuse in Spain: 139 members of the order are accused, according to the accounting of EL PAÍS, the only one existing in Spain. It is 14.4% percent of the total, 959 cases with 1,922 victims.
In Casp's school there are other accusations in the eighties against two other Jesuits. One is RA, whom a former student accuses of "groping, groping and disgusting kisses." "He would call you to his office to touch you, hug you and kiss you. On excursions, he touched our boys and girls' asses without shame or prejudice. He wanted to confirm that, after a trip to the beach, we did not get on the bus with a wet bottom, "she recounts.
Another former student, who prefers to remain anonymous, accuses the Jesuit FR. Due to the scarce data revealed by the order and the year of the events, it would be the proven and sanctioned case, but they refuse to confirm it. "In the 84-85 academic year, when I was a child of nine or ten years old, father R. called me into his office. As soon as I walked in, he locked it and that made me feel weird. He made me sit on his lap, he was asking me questions, and suddenly he put his hand on my knee and began to move it up until he touched my genitals. He spent a long time touching them over his pants ", he recounts. "In the end, it was my first sexual experience. And it was with an older man, with a priest… Now I remember it every day, not with sadness or pain, but I do remember it every day, and look, years have passed." A little less than a decade ago, he explains, he went to school to tell another priest, whose name he does not remember, what had happened. "I left there thinking that I had done something, but then I saw that this would not help at all."
The rest of the cases date back to the fifties and seventies. In the second half of the fifties, Joan Esteban, a professor and former CSIC researcher, remembers Father Romaní, now deceased, the school's spiritual father, whom he defines as "gloomy and with dark glasses that showed his eyes". He recounts that a chat, about 15 years old, told them that if they were invited to a party where there would be girls, they should come to his office the day before so that he could put a cilice on their legs so as not to fall into sin. "When he came across students he offered us aniseed that he carried in a box. Instead of giving them in the hand, he introduced them into our mouths. He took advantage of the opportunity to caress our tongues with his fingers ", he recalls.
His worst experience with Father Romaní was when he was 12 or 13 years old, around 1957 or 1958. One day he called him into the office and told him to sit on his lap. "He intensely caressed my legs, because I still had shorts on. Then he asked me to kiss him. I kissed him on the cheek. He told me it had to be on the lips. I told him that this was not done even with my father. He threatened me with eternal damnation for doubting my spiritual father, but I ran away from there ". Later he told the rector of the school, but "he told me about my perversion when I saw only bad intentions in the Christian love of the spiritual father." He doesn't know if he had anything to do with what happened, but later the prefect of the school told him to ask his mother to put on long pants "because that would lead to temptation." Finally, already at the age of 18, through a Jesuit friend of the family, he spoke with the provincial of the order and affirmed that the Romaní father was removed from the school.
Esteban also remembers another episode on a trip that the school organized to Lourdes. On her return she would go through Andorra and spend the night there. "Father Ramírez said that I had had to sleep with him, and it was a double bed. I spent the whole night taking my hands off him, he pretended he was asleep and he would throw himself on me ". He specifies that he didn't go from there because he always got away from him, but that he didn't sleep all night.
Two other cases are from the first half of the seventies. Brother C. and a layman named L., a mathematics teacher. Against the first of them there are two testimonies. Antonio, the fictitious name of a former student who did not wish to be identified, describes brother C. as bald, who snorted snuff, which is why he had black fingers. He taught religion class and watched over the dining room. "It was 1969, I was nine years old. One day, after eating, he calls me to accompany him to an empty classroom on the first floor. There he begins to ask me about my family, and about my sister. He started telling me that women were bad and while he was holding my wrist, he was masturbating under his cassock, making spasms, of course I didn't understand anything. I broke free and ran out into the yard." Antonio wrote to EL PAÍS in 2021, and then also wrote to the Jesuits: "They responded and told me that they were very sorry and that they would add it to the case study. They never contacted me or spoke to me anymore."
The Jesuits were the first ecclesiastical institution in Spain to react to allegations of abuse, with an internal investigation that began in 2019 that culminated in a report, in January 2021, that admitted 81 cases of pedophilia in Spain since 1927. However, the document it concealed the information and diluted it to avoid identifying the date and place of the abuses. He did not give names or initials, and only placed the cases by autonomous community. An update to the report, in May 2022, added three more cases, with the same lack of definition.
75% discount
Subscribe to continue reading
Read without limits