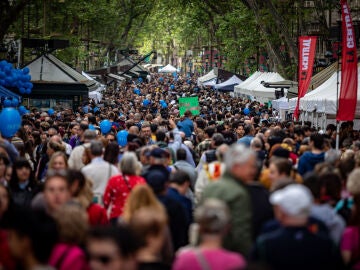 What does tourist Barcelona vote for? The one for apartments, hotels and restaurants for foreigners was divided in the last municipal elections, with a technical tie between Ada Colau (Barcelona en Comú) and Ernest Maragall (Esquerra), with Jaume Collboni (PSC) one step behind. A trend that could turn around this 28-M according to the polls, with the Socialists better placed than their rivals.
However, and taking into account the results of the last elections of 2019, Republicans and commoners shared the city center equally, with five neighborhoods for each one in a final box that led ERC to win the elections in votes for the minimum and Colau to govern thanks to his pact with the PSC and the support of Manuel Valls in the investiture.
Barcelona en Comú, the municipalist platform of the mayoress of the Catalan capital, prevailed in the Raval, the Gothic, Sant Pere i Santa Caterina, Poble Sec-Montjuïc and Vila de Gràcia. The most comfortable victory over his rivals – he practically doubled the votes of the Republicans – was in Sant Pere, Santa Caterina i la Ribera. The area adjacent to Plaza de Catalunya is treated and includes enclaves such as the Palau de la Música, the Picasso Museum, the Santa Caterina Market and the Basilica of Santa Maria del Mar, making up one of the tourist areas par excellence of the Catalan capital.
Instead, Esquerra Republicana de Catalunya prevailed in Barceloneta, Sagrada Familia, Sant Antoni, Vila Olímpica and Dreta del Eixample. In other words, the coast was Republican yellow and, unlike Colau, Maragall's candidacy then won in more populated neighborhoods than those in which the mayoress was victorious.
In fact, and due to tourism and the few census registrations in this area of ​​the city, the Gothic just reached 4,300 votes in total four years ago -out of almost 8,000 voters- or in Sant Pere, Santa Caterina i la Ribera it barely reached 7,000 voters in 2019, a small haul compared to the rest of the city.
Of these ten neighborhoods in the Catalan capital, the most populated and with the most ballots in the polls four years ago were from Esquerra: Sagrada Familia and Dreta del Eixample -which includes enclaves such as Passeig de Gràcia itself- were Republican four years ago, with the PSC nearby.
Apart from tourism, it should be remembered that in the Catalan capital there is also a neighborhood that predicts who will be the mayor or mayoress. This is the Vila Olímpica del Poblenou, an enclave that traced the results by matches in 2011, 2015 and 2019. In other words, it has been getting it right for more than a decade. In fact, what is surprising about the case is that it not only predicts the winner at the polls, but also replicates with pinpoint accuracy the results of the different parties at the global level of the city.