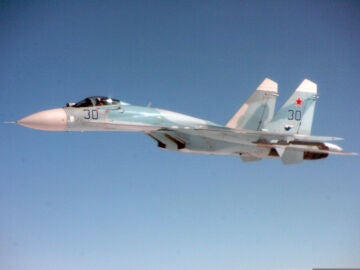 The Russian National Defense Control Center has reported that a Russian fighter plane, model Su-27, has intercepted two B-1B bomber planes of the United States Air Force over sea waters on Tuesday afternoon. Baltic, near the Russian state border.
According to Moscow, the two US aircraft "have occupied the air surveillance zone" of Russia and, after its withdrawal, the Su-27 fighter has also returned back to its base airfield, according to the Russian news agency Interfax.
"The flight of the Russian fighter was carried out in strict accordance with international regulations for the use of airspace. Violations of the state border of the Russian Federation have not been allowed," the Russian military authorities have settled.
For his part, the Pentagon spokesman, General Pat Ryder, stated at a press conference that the interaction between the Russian fighter and the two bombers was "safe" and "professional". "We were carrying out previously planned maneuvers", he has sentenced.
This is not the first time that Russia has confirmed the interception of combat aircraft from foreign powers, normally allies of Ukraine, flying over the vicinity of its border.
Nor is it the first clash between Russian and US aircraft, since in mid-March a Russian Air Force fighter hit a US unmanned aerial vehicle over international waters of the Black Sea.
That episode marked a new escalation of tensions between Washington and Moscow in the framework of the war in Ukraine, initiated by order of the Russian president, Vladimir Putin, at the end of February 2022.