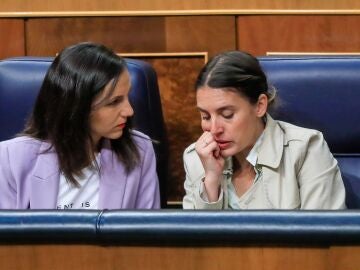 In just four days, the Spanish are going to make very important decisions at the polls. All the parties have a lot at stake: municipal power, regional power and positioning themselves facing the general elections in December.
But there are some acronyms that, to a large extent, are submitted almost to a test of life: We can. Because, at this point in 2023, the youthful, aggressive and reckless party that emerged in the Faculty of Political Science at the Complutense University no longer aspires to destroy the democratic Spain that emerged from the constitutional pact of 1978, but rather to not be destroyed, to salvage the furniture he still has left at his headquarters.
Podemos maintains, with difficulty, his vital signs thanks to the respirator provided by his presence in the Government courtesy of Pedro Sánchez. But that same kindness has already been diverted towards Yolanda Díaz, who on the night of May 28 will sit in front of the television, while eating popcorn, to see if her close enemies of Podemos are sustained in Madrid or in the Valencian Community, or if, on the contrary, its path towards irrelevance is accelerated by becoming an extra-parliamentary party.
The panic of the purple can be seen in situations such as the one carried out by Minister Irene Montero, when she confronted a citizen and made an intense defense of the values ​​of liberalism: that children have the right to inherit from their parents and that with their money she does what she wants. And hysteria has reached the brink of paroxysm in this unbridled campaign of posters and insults against everything and everyone, starting with the PSOE, with whom he shares the Council of Ministers every Tuesday.
It is the bellicose and quarrelsome Podemos of its early days, but with the difference that in 2015 they were new and attracted attention, while now they are too predictable and barely manage to encourage their most fanatical flock. And that is his main problem: that only with the fans it is difficult to achieve good results at the polls.
On the night of 28M, Podemos will know if he can still aspire to the PSOE giving him ministries.