Pepe is 67 years old, he was born in the capital of Valencia, in the Torrefiel neighborhood, "come on, a lifelong Valencian, I grew up in Sagunto until I was 8 years old, but then we returned to Valencia". Due to things in life, bad luck, fate, the circumstances to which we are all hostages on many occasions, Pepe – "or Jose, whatever you want" – has been living in a supervised home at Casa Caridad Valencia for six months. He got there after recovering from tuberculosis, a love affair and a professional failure. Although some things do not heal even in six months, others do, and thanks to the care he receives at Casa Caridad, today he looks happy, his eyes still radiate confidence in life, that things can turn out well . "Here we are a family, they treat me very well."
When I arrive, he is waiting for me sitting on a bench at the entrance to Casa Caridad, next to the dining room, divided in two since the pandemic, to separate those internal users from those who come on time. He looks up from his "tablet" -yes, he has a "tablet" and he is reading up on the latest political news before the interview begins-, he looks at me with a smiling expression, he is happy that someone is taking him into account in a A matter like regional elections, given that in the electoral campaign the politicians of one and the other parties dominate all the media attention. That if we are going to build I don't know how many schools, if this or that is free, if what these or those have done wrong… That is what most people hear, especially those who live outside the system as we understand it.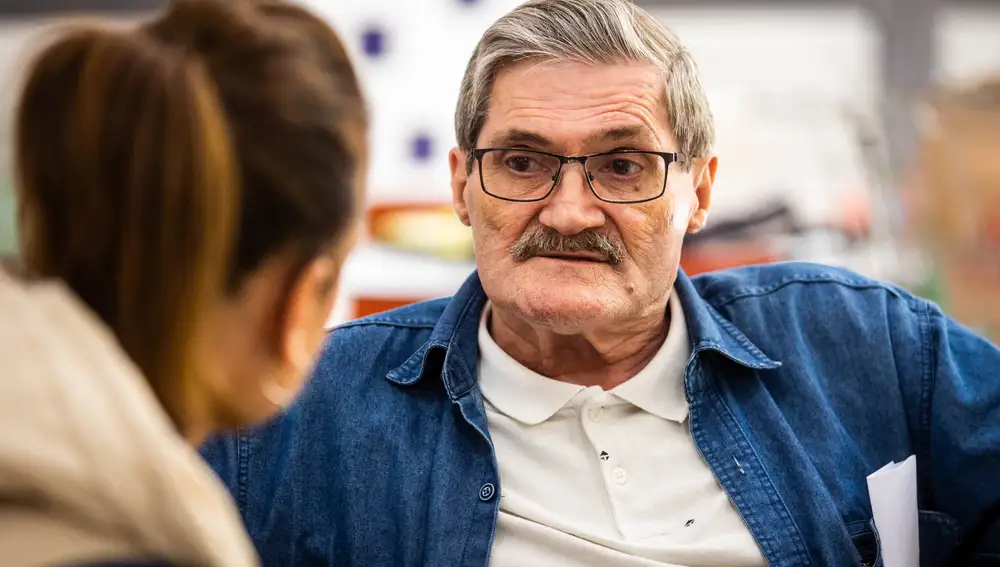 A moment of the Casa Caridad interview
"We only ask politicians for one thing: that they be honest, with the people and among themselves, that they do what they say." It seems easy, right? That is Pepe's only request that, although he has not completed higher education – "I am an electrician, I did not do FP but I did take courses and I was trained" – he continues the sessions of the Congress of Deputies and the Senate. "It is that every week they say the same thing, one and the other. I always wear it, and they always say the same thing, and they are always fighting."
Regarding some of the measures that have been approved so far in the Valencian Community, such as the shopping basket voucher, he is not very convinced… "It sounds to me like the ration card from when I was little… ". He has not asked for it because he already has his needs covered in the soup kitchen.
Nor do you need to have higher education to do some numbers. "They all take official cars, entourages with all that staff,… I say that this money can be used for other things, right? To help the people who are here, for example, I collaborate so that they help me, I don't want to be at the 'sopa boba'", says Pepe.
At this point it must be explained that Casa Caridad receives public subsidies from the Valencian Generalitat (this year 158,600 euros, divided into three different programs), from the Valencia Provincial Council and from the City Council, although the subsidy from the latter was cut by 100,000 euro. In addition, since last year the temporary reception centers have been arranged with the Vice-Presidency and Department of Equality.
If you ask him what worries him for the immediate future, he says, "that the people who are here who have drug problems relapse again, that really is a 'bitch'," he says. It's a pity that politicians can't do anything there. But he can't help it, they are his companions, for six months they have practically been his family. What worries him is that they are definitively cured of the grief, pain and loneliness that led them to use. Surely Casa Caridad is a good start.
"Pepe, are you going to vote?" I ask him, because of course, given such disenchantment with politics, he is no longer interested in going to the Electoral College next Sunday and prefers to take a walk by the river. "Me? Of course I do," he says bluntly and with a wide smile, almost with a ballot already in hand. It doesn't matter who he votes for, the question is that he will do it -although he believes that his colleagues won't- because he, as I was saying, continues to trust that everything will turn out well, and that the politicians who read this will listen to him , and be honest, with people and with themselves.