Another day in which Vicky Martín Berrocal plays the fashion game with her more casual boss look. And it's not just us saying it, but all her Instagram followers who haven't stopped asking her where her shirt and her blue vest are from. But the surprise is that it is a single garment, that is, a shirt with a false vest and we, as good fashion detectives, already know what brand it is. It is a shirt with a built-in vest from the Parisian firm Maison Margiela, which is sold out on the web, but it must be said that all the shirts from this French firm are around between 600 and 700 euros. So, Amancio, we urgently need a con. In addition, we cannot like it more than how Vicky Martín Berrocal has combined it with a more casual touch. And more with the cold and rainy days that we have in the capital of Spain for the DANA. Because we already wanted more casual looks after several days with wedding outfits, with the wedding of Joaquín Torres and Raúl Prieto in Seville and Tamara Falcó and Isabel Preysler as the perfect guests, also with the Marta Lozano dress in Cannes. But Vicky has arrived with this perfect outfit for women over 50 like Carmen Gimeno yesterday with the Zara kimono.
A perfect outfit for women over 50 to go to the office, shopping or out for a meal with friends before the storms hit Spain this week. Elegance is her. And surely Carmen Lomana would wear it with her favorite golden sandals and Vicky Martín Berrocal with New Balance. Because while Carmen Gimeno made us fall in love with a loose Zara skirt or Queen Letizia with her red dress, and Tamara Falcó with her Parisian look, Vicky Martín Berrocal is the queen of casual. When choosing jeans, several aspects must be taken into account and although age is not decisive, it can give rise to preferences for some models over others for reasons of comfort and style.
Shirt with vest, from Maison Margiela (600 euros)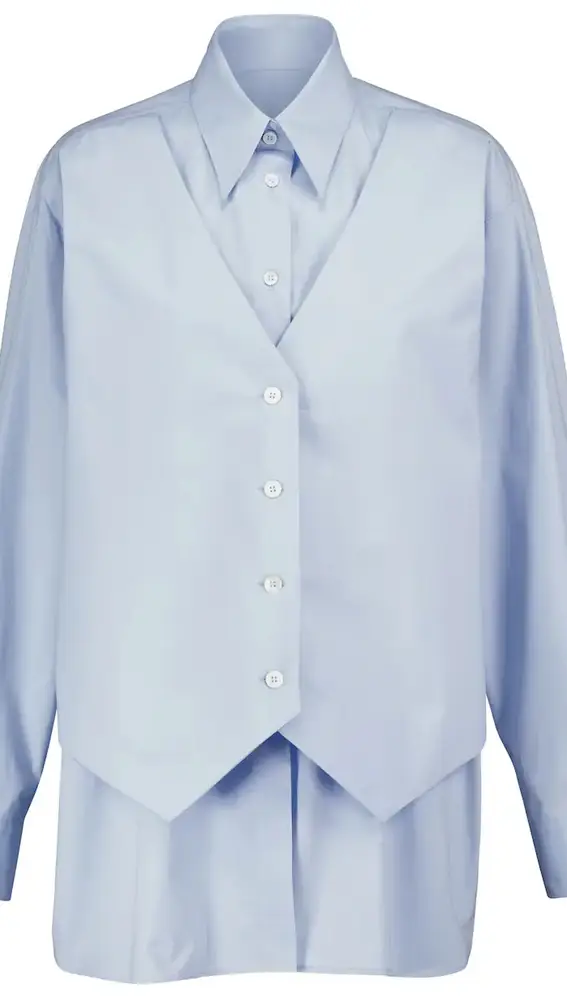 Vest shirt. House Margiela.
A shirt with a blue vest that Vicky Martin Berrocal has combined with wide jeans.