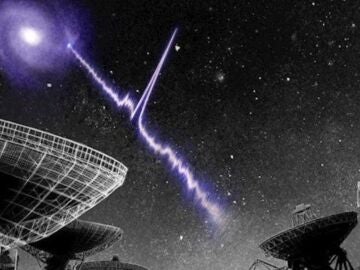 The existence of an extraterrestrial civilization is one of the great questions of science. Numerous projects explore this possibility either inside or outside our solar system. But… what would happen if we received a message from an extraterrestrial civilization? Daniela de Paulis of the SETI Institute (Search for Extra-Terrestrial Intelligence Institute) has assembled a team of international experts, including SETI researchers, space scientists, and artists, to implement the project, A Sign in Space. space).
This presentation aims to explore the process of decoding and interpreting an extraterrestrial message by involving the world community, professionals from different fields and the general public. This process requires global cooperation, space research, and partnership across multiple cultures and areas of expertise. As part of the project, on May 24, 2023, the European Space Agency's ExoMars Trace Gas Orbiter (TGO) in orbit around Mars will transmit a coded message to Earth to simulate receiving a signal from extraterrestrial intelligence.
"Throughout history, humanity has sought meaning in powerful and transformative phenomena – explains de Paulis in a statement -. Receiving the message of an extraterrestrial civilization would be a profoundly transformative experience for all humanity. A Sign in Space offers the unprecedented opportunity to tangibly rehearse and prepare for this stage through global collaboration, fostering an open search for meaning across cultures and disciplines."
The project has the collaboration of three world-class radio astronomy observatories located around the world. They are the ones that will detect the coded message that the TGO will send. These include the SETI Institute's Allen Telescope Array (ATA), the Robert C. Byrd Green Bank Telescope (GBT) at the Green Bank Observatory (GBO), and the Medicina Radio Astronomical Station observatory run by the Italian National Institute for Astrophysics (INAF). ). The specific content of the encoded message, developed by de Paulis and his team, is currently undisclosed, allowing the public to contribute to decoding and interpreting the content.
ESA's ExoMars Orbiter will transmit the coded message on May 24 at 9:00 p.m. Spanish peninsular time and it will be received on Earth 16 minutes later. To engage the public, the SETI Institute will host a livestream event on social media featuring interviews with key members of the team, including scientists, engineers, and artists who will join the livestream from around the world. The transmission will begin at 20:15.
"This experiment is an opportunity for the world to learn how the SETI community, in all its diversity, will work together to receive, process, analyze and understand the meaning of a possible extraterrestrial signal," adds Wael Farah, Allen Telescope Array scientist. "More than astronomy, communicating with ET will require a breadth of knowledge. With this project we hope to take the first steps in bringing a community together to meet this challenge." After transmission, the scientists will process the signal and then make it available to the public for decoding.
The SETI Institute will securely store the data processed in collaboration with the Breakthrough Listen Open Data Archive and Filecoin, the world's largest decentralized storage network. This collaborative effort ensures the preservation and accessibility of the processed data, safeguarding its availability for future analysis and decoding efforts. "We are delighted to partner with SETI on this innovative project – concludes Stefaan Verveat, Director of Filecoin –. Our decentralized data storage solutions are ideal for the secure and reliable storage of the large amounts of data generated by this project."