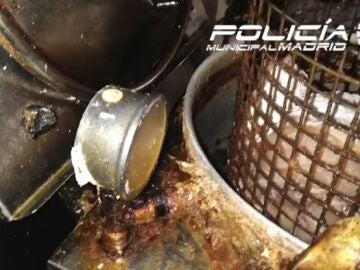 The Municipal Police of Madrid has sealed off a place in the Peñagrande neighborhood that sold kebabs because it was full of dirt and grease and that it was infested with cockroaches, sources from the Local Corps have reported.
The police intervention took place on May 10 at 12:45 p.m. Agents of the Fuencarral-El Pardo District Unit carried out a routine inspection of establishments when they were surprised at the amount of dirt it had. When asking his manager for the documentation, he could not present an activity or operating license.
On inspection, they found that the premises had a large amount of uncleaned grease in the kitchen and general dirt spread throughout all the rooms. In addition, there were dead cockroaches and mosquitoes near the food, so they found out that it was infested by the first insects.
In addition, food storage was unprotected, with containers without jars and some open. Many meat and dairy products were unlabeled, so their traceability is lost and it is thus unknown how long they had been open or if they were expired. In total, they detected more than 10 infractions of different kinds, especially very serious deficiencies in health matters.
Of all this, the Municipal Police informed the District Board and issued an act of closing the premises until the deficiencies are corrected. The person in charge of the establishment may be penalized for this unhygienic situation.