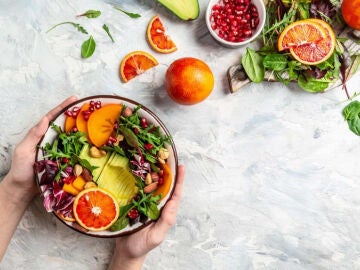 The European Food Safety Authority (EFSA) has recently published a report on pesticide residues in food. The document contains the results obtained after analyzing more than 87,860 samples in the European Union, from the European Coordinated Control Program (PCPA EU) and national control programs.
In 2021, they have focused on the analysis of 12 specific products to observe their pesticide content and whether they pose a health hazard. These were aubergines, bananas, broccoli, cultivated mushrooms, grapefruit, melons, sweet peppers, table grapes, virgin olive oil, wheat, bovine fat, and chicken eggs.
The results revealed that 96.1 percent of the samples were within the legally permitted levels. Furthermore, for the subset of 13,845 samples tested as part of the EU Coordinated Control Program (EU MACP), 97.9 percent fell within legal limits.
Of the samples analyzed in the coordinated program, 58.1 percent (8,043 samples) were found to be free of quantifiable levels of residues. Meanwhile, 39.8 percent (5,507) contained one or more residues in concentrations less than or equal to the permitted levels; and 2.1 percent (295) contained residues that exceeded permitted levels.
The pesticides with the highest non-compliance rate were ethylene oxide (6.6% of samples above the limit), the use of which is not authorized in the EU, diothiocarbamates (1.2%) and copper compounds (1% ), the latter used as fungicides, according to the Organization of Consumers and Users (OCU).
Ranking of the 10 foods with the most pesticides
1- Pomelos 9,92%
2- Sweet peppers 3.44%
3- Bananas 2,26%
4- Cultivated mushrooms 2.18%
5- Table grapes 2.13%
6- Eggplants 2.09%
7- Broccoli 1.66%
8- Wheat 1.53%
9- Melons 1.29%
10- Olive oil 0.29%
Every three years the same selection of products is sampled, which makes it possible to identify upward or downward trends. The global rate at which pesticide residues exceeded permitted levels increased from 1.4 percent in 2018 to 2.1 percent in 2021.
The report reveals that the percentage of samples of aubergines, bananas, sweet peppers and mushrooms cultivated with pesticides has increased, reports the OCU. Especially striking is the increase in the levels of pesticide residues found in grapefruit imported from outside the EU, which is why the European Commission has increased border controls. On the contrary, broccoli, chicken eggs, melons, table grapes and olive oil have improved their levels.
The European agency concludes that, in light of these results, the probability that the health of consumers is endangered due to exposure to pesticides is low. "It is unlikely that the food products analyzed in 2021 pose problems for the health of consumers," highlights the EFSA. However, the document contains a series of recommendations to increase the efficiency of European control systems with regard to pesticide residues.