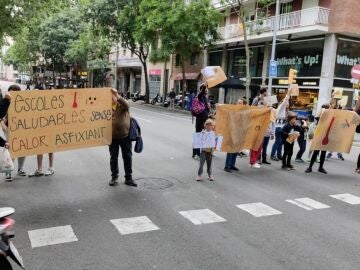 The Urban Guard has denounced the driver of a motorcycle that ran over a minor from the Jaume I de Sants school for reckless driving during the blockade of the street in Berlin against the heat in the classrooms on Friday, May 19, reports Betevé. The action began at half past seven in the morning without the presence of the Urban Police, and minutes later, a motorbike that wanted to pass through one of the banners held by the demonstrators. He emitted and threw a minor to the ground, who was not injured.
The AFA of the center, organizer of the cut, regrets that, had there been a police presence, the incident could have been avoided. They criticize that the Urban Guard was not there at the time of the outrage, although they had notified both the Department of the Interior and the municipal police of the Sants-Montjuïc district. According to sources from the Barcelona City Council, two patrols were already going. In fact, shortly after they made an appearance, at which time proceedings were opened.
Xavier Espuny, a member of the AFA from the Jaume I School, in Sants, explained that the families detained the individual, who wanted to leave before the authorities showed up. Now, both the AFA and the family also want to denounce the motorist. In a statement, the families organizing the cuts have expressed their solidarity with the family of the minor and ask for greater social sensitivity towards this type of act.