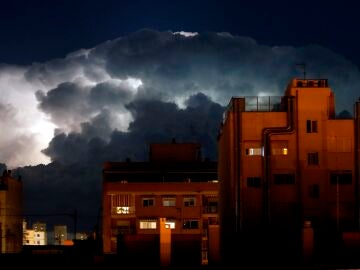 The storm front this morning has left rainfall records of up to 40 liters per square meter in points in the province of Alicante, where this Tuesday there will be no classes in about twenty municipalities due to the orange alert decreed by the State Meteorological Agency.
According to Aemet, episodes of intense rain with peaks of 40 l/m2 in just one hour are expected for today, like those that have already fallen last night in Alcoy, while in Rojales 24 l/m2 have been registered, at the airport from Alicante-Elche 17.7, in Orihuela 17.4 and in Xàtiva (Valencia), 13.2 l/m2.
The rainfall with a storm at dawn in the province of Alicante has been, in some areas, persistent and with locally very strong intensity in mountainous areas in the north of the province and strong intensity in areas of Vega Baja and Baix Segura.
Likewise, always according to Aemet, in the Vall d'Albaida, in the interior south of Valencia, the rainfall has been persistent, with storms and with strong intensity.
From the Generalitat Emergencies they add that in Cocentaina (Alicante) the firefighters have had to act in response to the incident with a car that had been blocked on the N-340 due to heavy rains, at around 5:46 p.m.
At first, the municipalities of Elche, Torrevieja and Orihuela, which add up to more than 400,000 residents, had announced the suspension of school activity, but the Ministry of Education added late on Monday that the towns that have decided not to open schools this Tuesday They already rise to 21 in the regions of Vega Baja and Baix Vinalopó.
These are Albatera, Algorfa, Almoradí, Benejúzar, Bigastro, Callosa de Segura, Catral, Cox, Elche, Formentera del Segura, Granja de Rocamora, Jacarilla, Los Montesinos, Orihuela, Pilar de la Horadada, Rafal, Rojales, Redován, San Isidro, Santa Pola and Torrevieja.
The Generalitat Valenciana Emergencies have established the pre-emergency orange level for rains and storms on the coast and inland in the province of Alicante, with a forecast of up to 80 l/m2 in twelve hours and peaks of 40 l/m2 in one hour. and they ask for a lot of caution and measures such as leaving the car parked.