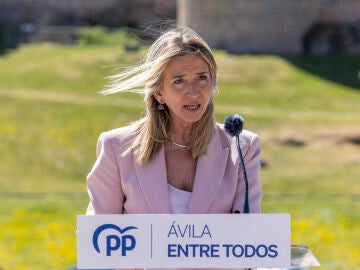 The PP candidate for Mayor of the Ávila City Council, Alicia García, and the Minister of Mobility and Digital Transformation of the Junta de Castilla y León, María González Corral, have proposed creating a "first-rate logistics hub for Ávila" from the "public-private collaboration".
After a meeting with the representatives of CEOE Ávila and the Chamber of Commerce and Industry, Diego Diez and Alberto Pascual, respectively, the candidate for Mayor has informed that they have transmitted to them her project of the "Plan Ávila Industrial y Logística".
The objective of this plan is, he has indicated, to turn Ávila into a "first-level logistics hub" with "great-scale actions" and, for this, the PP candidate has requested the support of both the Junta de Castilla y León as well as the Government of Spain. "Ávila wants opportunities (…) More industrial land and at a cheaper price, with better endowments", the PP candidate confessed.
In addition, this plan is accompanied by a project to "attract companies and investments that will be led by the City Council in collaboration with the Junta de Castilla y León, CEOE and the Chamber of Commerce". García is also committed to tax discounts to "increase that attractiveness that Ávila needs for the printed companies to establish themselves."
Among these bonuses is the reduction in property and real estate taxes, as well as the circulation tax for transport companies, an aid that is intended to be progressive based on the number of vehicles that the company has in the city.
"Promoting transport in the city is an essential tool for reactivating the economy and generating employment. There are European funds for this matter and we are going to endeavor to capture them", he added.
For his part, González Corral has highlighted the importance of the Atlantic Corridor for Castilla y León and especially for Ávila: "Entrepreneurs are concerned that the opportunities it can offer us are a reality and that they do not remain on paper (. ..) It is a strategic and unifying project for all the provinces of the Community"