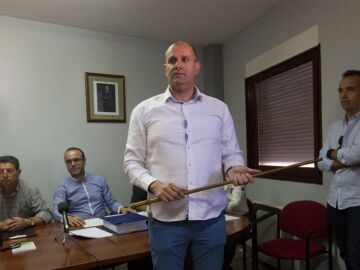 Roales del Pan is a municipality located in the heart of Empty Spain, just under 10 kilometers north of Zamora, located on the Roman Vía de la Plata. Seen this way, it could go unnoticed as one of the 8,131 municipalities that Spain has, but it has managed to be highlighted on the political map for two reasons: on the one hand, because it is the largest town governed by Vox; and, on the other hand, because its current mayor, David García, got the command thanks to the support of the PP and PSOE.
García, who was born in San Sebastián and studied Economics at the University of the Basque Country, is 47 years old, but behind him he has a vital trajectory full of changes and experiences. He has been an airplane pilot, as well as an instructor, and his work beginnings were as a local police officer in San Sebastián, where, according to his account, he had to leave due to the hostile climate that existed. He ended up in Roales del Pan, where he has raised a family with two children and has taken a step forward in politics. Garcia also has no ancestry from Roales del Pan because his grandparents are from Salamanca.
In 2019, he chose to run for the elections at the hands of Vox, although he qualifies that he does not fully share his entire program either. "I am a patriot", is the expression he uses the most to defend the step he took to join Santiago Abascal's party, since it suggests differences with some things from Vox, such as when he distributes motions to defend issues on issues of gender ideology. He has not had much of a relationship with the party leadership either, although he does highlight Javier Ortega-Smith, who stopped by one day to visit him, something he is grateful for.
García defends that he is in the municipality to do things for his neighbors and improve the life of the town and banishes the left-right axis. "There are things that you like more or less about Vox, but young people no longer believe in left or right," he points out, and recalls that the first impression he got from the town was the "bitter hatred" that existed between people , since it was a town that was growing, practically an oasis in Empty Spain. «We are the union of Vox, PSOE and PP, which is what society wants. Society wants solutions to problems, they elected me because of my program, not because of the initials, "he explains, although his investiture as mayor left collateral damage: the PSOE expelled the councilor who supported the current mayor.
How was that agreement reached? "In the towns, personal issues prevail more than parties," starts his explanation. Of the seven councilors that make up the Plenary, three corresponded to a localist candidacy and the rest to PSOE (1), Vox (1) and PP (2). "There was a clash between PSOE and PP and the local candidacy," he explains. In the town halls, the winner of the elections or the one who manages to form an alternative absolute majority is always invested as mayor. In this sense, the alternative majority required uniting the other four councilors.
«They called me from the PP and told me that they believed that I had to be the mayor, because I was the most prepared and they told me that they were going to speak with the PSOE councilor. I answered him at first that he could not be mayor being only a councilor, "he recalls. Although, the PSOE councilor gave his approval and promised to guarantee governability.
García, who is a professional training teacher in Valladolid (he comes and goes every day) and has an educational content company, is a part-time mayor (he only charges for a few hours). In fact, he claims that he earns much more outside of politics: "I get up every morning at 6 to go to Valladolid," he emphasizes. However, those few hours dedicated to the council have been enough to raise the town and manage to exceed 1,000 inhabitants during his term (the municipality has been growing in population year after year and the number of inhabitants has doubled since 2002).
«We are the only town that grows above 1,000 inhabitants in the entire province of Zamora. We have the town full of children », he exposes. What have you done to attract people? "We have free daycare, the IBI has been reduced to increase registration and the town's infrastructure has been improved," she explains, and calls for subsidies to finance the expansion of the daycare center because it is full. "I apply for all the grants that I can to receive them for the town," she says, fighting every inch to improve the town.
García has not limited himself to management either, but is also looking for far-reaching improvements: he explains that he has promoted an innovative educational system "for early stimulation with technology", something that "is working very well"; he has also traveled to Portugal to "look for operational synergies with large companies", since Roales del Pan is located 4 hours from the Port of Leixoes, just halfway to Madrid; and, he aspires to create a public agri-food center.
The mayor presents himself again and anticipates that his management will receive the endorsement of the people: in fact, he predicts an absolute majority.