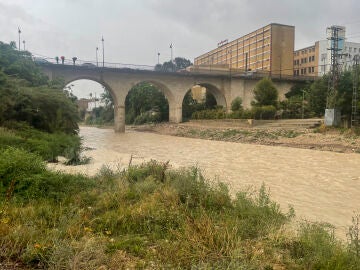 The episode of heavy rains and storms that has affected Alicante since Monday is normalizing without serious incidents caused by accumulations of up to 150 liters per square meter in the regions of Vall d'Albaida (Valencia) and El Comtat (Alicante).
With the Special Flood Plan activated and the pre-emergency in orange level, Aemet's forecast indicates that the rainfall will be persistent until dawn and possible red level warnings due to accumulation are not ruled out, more predictably in those two regions.
Emergencies of the Generalitat has reported, in the last balance of the episode (19 hours), that there has been no significant material damage and that the water, in general, has been positive for the Valencian Community.
Nor have incidents been reported from the Júcar and Segura Hydrological Confederations. In Júcar there are currently no alarms and the most important capacities are registered in Sueca and Cullera, and there has been a release of water in the Bellús reservoir of 16 cubic meters.
According to the rain gauge records with accumulated rain since the beginning of the episode, the Beniarrés reservoir has recorded 156 liters, Ontinyent 141, Agres 138, Muro de Alcoi 121, Beneixama 103, Vallada-Serra Grossa 97, Adsubia-Rambla Gallinera 85, 4, Enguera 81, Vall de Gallinera 77, Mutxamel 75, Moixent 74, Millena 71 and Font de la Figuera 70 liters per square meter.
Some 800 resources from the different services and bodies involved have been mobilized to respond to the emergency, and the Emergency telephone number has received 799 calls related to the rain episode and has managed 581 incidents.
Regarding the incidents, the Alicante Provincial Consortium Fire Department has not registered any incidents in the last few hours, while the Alicante City Fire Department has indicated that as of 2:00 p.m. the situation has calmed down and only has registered a traffic accident due to leaving a vehicle as a result of the slippery road surface.
In the province of Valencia, the Consortium Firefighters have provided services in Torrent, Massanassa, Albal and Catarroja, mostly due to drainage and leaks (in many of them without acting due to the low amount of water) and a woman was rescued and two children in a vehicle in Albal.
In the city of Valencia, the Municipal Firefighters have carried out between 10 and 15 services for bilges, cornices and trees.
The president of the Generalitat, Ximo Puig, has attended the last technical meeting on the evolution of the rains and has pointed out that some incidence has only been registered on rural roads.
"Fortunately it is an episode of a DANA in much more favorable conditions," said Puig, who hopes that tomorrow, Wednesday, the conditions will be normalized for students to attend schools.