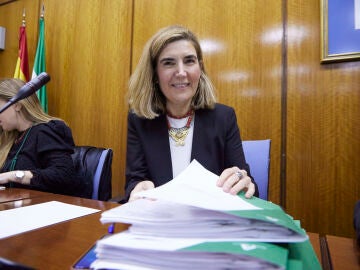 The Minister of Employment, Business and Self-Employment, Rocío Blanco, gave an account this Tuesday at the press conference after the meeting of the Governing Council of the elaboration of a protocol by the Andalusian Government aimed at energy marketers to encourage the distribution of 525 million euros, which come from European funds, in aid to SMEs and the self-employed to counteract the effects of the war in Ukraine and raw materials on their costs.
This is a measure contemplated in the Social and Economic Pact that the Andalusian Government signed on March 13 with the Andalusian Business Confederation (CEA) and the UGT unions and Workers Commissions.
Blanco has exposed the content of a protocol of adhesion by which all the companies, more than 600, that are marketers of these energy products in Andalusia and that are included in the list of the National Commission of Markets and Competition ( CNMC).
The Minister of Employment has indicated that "the expression of interest will be published in the BOJA tomorrow" and that, from there, the marketing companies will have "one month to adhere", while she has praised "their willingness to collaborate" because "they do a public service."
The aid will be aimed at compensating for the extra energy cost suffered by SMEs and the self-employed between February 1, 2022 and December 31, 2022.
The calculation of the aid will take into account the average daily cost that it had during 2021 and its comparison with that supported in the period of 2022 for which the aid is granted, so that the Andalusian Government will face that difference, which will be covered by the subsidy.
The Junta de Andalucía demands that this information, the comparison between energy expenditure in 2021 and 2022, be provided by the energy trading companies, which, through an automated file exchange mechanism, will send the information to the regional Administration of these invoices, prior authorization from their customers.
The Junta de Andalucía will prepare a Decree-Law to determine the requirements to be beneficiaries and the amounts of the aid, a norm that it expects to approve in the coming weeks, and from that moment the period for submitting applications will open.
The Andalusian Government undertakes to resolve and pay the beneficiaries before the end of the year. Blanco has ironized on this point the use that his department makes of computer tools for an automatic evaluation of the applications and rejects that it is "an army of humanoids", for which he has defended that it is "a human team that innovates". .
Both the adhesion protocol as a collaborating entity and the information on the electronic file exchange mechanism are in the Virtual Office of the Ministry of Employment, which will allow all these procedures to be carried out digitally through an electronic certificate.