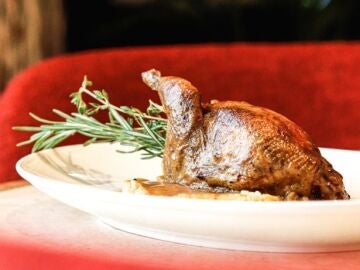 The executive menu is the menu of the day for good people. Of those who enjoy a glass of good wine instead of red wine with soda (yummy, on the other hand) and who usually introduce KPIs and many percentages into their after-dinner meals instead of the football chatter and daily battles that proliferate on the tablecloth. humbler spaces. They are also an exceptional opportunity to try some of the dishes on the menu, or at least get an idea of ​​the style of the kitchen, in spaces that are not very affordable and, when it's right, really recommendable. For everyone, we bring a compilation of great restaurants with an executive menu in Madrid.
Due to its affordability and track record, the collection must begin with the Treze by Saúl Sanz, one of the pioneers in the capital of seasonal cuisine when fusion still prevailed. For only 14.50 euros, (13 euros if it's to go), and 25 euros if you choose rice, it includes three appetizers, a main course, a dessert, bread and a drink. And we continue with the opening of the year, with Osa's permission: The Allard Club. With Martín Berasategui in charge and José María Goñi on a day-to-day basis, they have just launched a very interesting proposal for 98 euros, something much more affordable than the 140 and 175 euros for which the painful gastronomic menus of ten and thirteen come out passes, respectively. In this express formula you can choose between a starter, a main course and a dessert, and there are dishes on the menu, such as the delicious teardrop peas with Jerusalem artichoke, sea urchin and Iberian pork miso ramen. A renowned house is also Robuchon, the space that honors the much-missed Joël. In its most informal space, L'Ambassade, there is an interesting executive menu for 35 euros, which changes weekly.
With a Michelin star and gastronomic menus starting at 88 euros, Chirón (Valdemoro) is a classic example of a great restaurant at a reasonable price. On a daily basis, you have an excellent alternative for only 32 euros of great level. It includes welcome appetizers, a tasting of Madrid oils with artisan bread, black pudding yoghurt, starter, meat fish, rice (prior supplement of 10 euros), dessert and sweet finish.
Without going so far, and giving an exotic roll to the subject, we find the executive proposal of Varanasi. It includes four main dishes, to choose one, with proposals that change monthly and can be accompanied by garnishes and accompaniments and a dessert. Also, in an Asian key (although with touches of France and Spain), we find the KOrto menu from Ikigai Flor Baja. From Wednesday to Friday and for a price of 40 euros, Yong Wu Nagahira offers cockles open to sake with jalapeño gazpacho and trout roe, eight classic nigiris, a temaki and a dessert. It is, without a doubt, an exceptional way to discover the vibrant essence of this izakaya.
From Italy, two titans have signed up for this casual formula. One is Boccondivino, the classic revived by Ignazio Deias, whose Tradizione menu, from Tuesday to Friday, delights the staff with lunches for only 28 euros with options that are not usually found on the menu. In addition to bread – of different types and handmade – and drinks, the menu includes a starter, a main course and an ice cream or coffee. In Aviador Zorita we find Ozio Gastronómico (without accent, which is Italian), a place to frequent. There is a special menu that is offered on Tuesdays, Wednesdays and Thursdays both at noon and at night at a price of 35 euros, and which includes a starter, a main course, a glass of Sicilian wine and a dessert. For its part, the "customary" executive menu is maintained from Tuesday to Friday at noon for only 20 euros and features recipes from the boot that cannot be found on the regular menu. We cannot leave out the InterContinental. From Monday to Friday, it offers an executive menu, with an unbeatable value for money (€38 per person, separate cellar, available at lunch and dinner), which changes weekly. Those who are hard-working can opt for the working lunch proposal, between 12 noon and 4 p.m., which for €20 includes Wi-Fi connection, a light dish and a drink, in a beautiful setting to eat something quick and be productive while enjoying yourself.