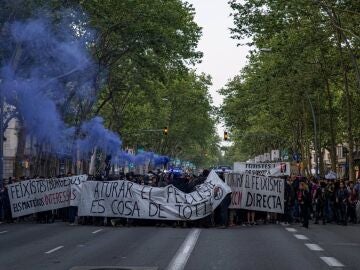 Some 200 protesters in favor of the occupations of La Ruïna and Kubo have thrown stones and hit the windows of different banking entities in the center of Barcelona and have launched smoke canisters.
They did it when they were heading from Plaza Universitat along Gran Via in the direction of Plaza España, and as they passed through Carrer de la Creu Coberta.
The Mossos d'Esquadra have asked through the loudspeakers of the vans of the Mobile Brigade (Brimo) to stop or that "otherwise there will be police intervention", to which the protesters have responded by whistling.
Some 400 protesters have gathered around 7:00 p.m. in Plaza Universitat –according to municipal sources–, and have tried to move towards Pelai street and Ronda de Sant Antoni.
Several police cordons have blocked their passage, which is why they have begun to mobilize along the Gran Via in the direction of Plaza Espanya, cutting off traffic.
For its part, the Court of First Instance 39 of Barcelona will hold a preliminary hearing on Wednesday for the lawsuit filed by the Management Company for Assets Arising from Bank Restructuring (Sareb) that has claimed the eviction of La Ruïna.
At the hearing, the owner of the Bonanova square building and the defense of the occupants, who have opposed the eviction, will present their respective arguments on the procedure that in recent days has led to protests and has been the subject of debate in the campaign municipal electoral.
The judicial procedure on the Ruïna is being processed differently from the one that weighs on the adjoining building and that is also occupied, the Kubo, because in this case the occupants have answered the demand.
As the lawsuit regarding the Kubo was not answered, the Court of First Instance 3 agreed to the eviction at the request of Sareb, and the farm is pending a new eviction date after the Mossos d'Esquadra tried to evict it on March 23, but the launch was suspended due to the lack of "safety and efficacy guarantees".
In this sense, Sareb explained that the eviction on March 23 was halted "with the aim of proceeding to evict both buildings jointly to guarantee the security of the area."
However, the eviction of the Ruïna is requested but the occupants have been postponed and the judge has not yet decided on the matter, something that she will do after the hearing this Wednesday.