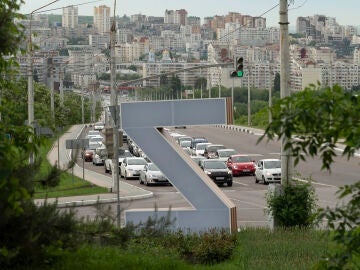 The Russian Freedom Legion, one of the militias opposed to Russian President Vladimir Putin operating under the orders of Ukraine's military high command, continues its incursion into Russian territory after the surprise attack on Monday, which caught the security forces of Ukraine off guard. the border region. The Kremlin was still celebrating the conquest of Bakhmut at the hands of the Wagner mercenary group when several Legion units crossed the divide in the company of dozens of militiamen from the Russian Volunteer Corps, another group that took up arms against the Kremlin.
More than 24 hours after the raid, the Russian Defense Ministry claims to have killed 70 of the group's fighters. It also claims to have destroyed four infantry vehicles and five pickup trucks. Spokesman Igor Konashenkov declared on Tuesday that "the invading units were expelled back to Ukrainian territory." Meanwhile, the governor of the Belgorod border region, Viacheslav Gladkov, announced the lifting of the anti-terrorist regime in force since Monday afternoon and denounced the death of one person as a result of the clashes.
However, the pro-Ukrainian militias deny the Kremlin's version. A spokesman for the Russian Freedom Legion, Aleksey Baranovsky, maintains that the group currently occupies two towns in the Belgorod region and controls an area of ​​20 square kilometers in Russia. While fighting continues more than 10 kilometers from the border with Ukraine. The group's leader, Ilya Ponomarev, a former Duma deputy in exile, guarantees that the operation is continuing in the towns of Glotovo, Kozinka and Gora-Podol.
According to Ponomarev, the militants have captured several Russian equipment. They would be in his possession, according to his version, up to four Russian armored personnel carriers BTR-82A. In the Briansk region, also bordering Ukraine, militants attacked a military factory. Although the group's maximalist objective is to "liberate Russia from Putin's yoke", the incursion has served, at least for the moment, to divert attention from the fighting on Ukrainian soil and destabilize the Kremlin.
Kyiv has insisted that it has "nothing to do" with the operation. Ukraine's military high command acknowledged being aware of the militias' plans, but denied directing them. Ukrainian military intelligence spokesman Andriy Yusov told Suspilne public broadcaster on Monday that armed anti-Putin groups had launched the ground offensive in order to create a buffer zone to protect civilians from attacks. russians.
To carry out the incursion, the militias used US-made military vehicles. They have at least two M1224 MaxxPro armored vehicles and several Humvees, reports the Financial Times. The US State Department insisted that military hardware loaned to Ukraine should not be used to attack Russia, but has yet to rule on this fact. The founder and leader of the Russian Volunteer Corps, Denis Nikitin, a neo-Nazi militant from a group made up mostly of far-right profiles, avoided revealing how they had obtained the kits.