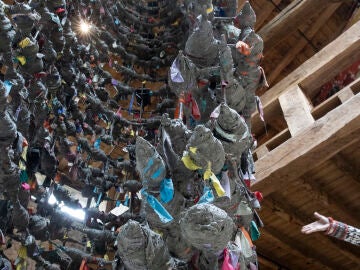 "Anti-monumental", "antimatter" or "anti-sculpture" are terms that can easily be applied to the work of Phyllida Barlow. The British sculptor was going to be the first living artist to exhibit at the Chillida Leku museum, but her sudden death in March has turned this project into an unexpected tribute and, at the same time, a posthumous journey through a singular and her own strong accents that, despite the prestige she enjoys today, achieved late recognition, when she was already close to 60 years of age.
For most of her life, Phyllida Barlow worked as a professor at the university and, as Estela Solana, curator of this exhibition, recalls, she kept a very particular perspective on creation. For her it was, above all, "an intimate, personal exercise" and, also, it should be emphasized that it had a tremendous identity. This creator, who refused to baptize her pieces with a name -in all the cartouches of the exhibition it reads "untitled", although later a description is included-, always played with spaces and spatial references, always applying great originality.
He shared with Eduardo Chillida, with whom he dialogues on this tour, concerns such as "gravity, materiality and mass", something that can be observed in some of the works on display, such as the one he presented at the Venice Biennale in 2017. , a set of wooden sheets, here adapted to the floor where it is exhibited, which pretends to support and support some immense cement blocks, which, despite the ropes and pulleys included in the assembly, are not really of a heavy character, but rather the opposite, light. A simulation, perhaps a trompe l'oeil for our deceived gaze, which is a fair counterpart to Chillida's immense iron and stone figures.
One of the characteristics of Phyllida Barlow was her propensity to take the real measure of buildings and spaces through the inevitable reference that the inclusion of a sculptural piece implied. Either by being located outside, as is the case with two of the proposals that have been included in this tour, or inside, her works introduce a new perspective that helps the visitor to become aware of the true dimension of what Is the height.
Although if there is one novel point that deserves to be highlighted in Phyllida Barlow, who before dying wanted to design a unique and exclusive piece for this exhibition, although it was left unfinished, it is the conception of sculpture as a medium that is born and reborn without ceasing. «The notion of construction, destruction and reconstruction as part of a natural cycle of the passage of time was a great concern for her», comments Estela Solana.
A seven meter tower
This assembly, which also includes a handful of paintings by the artist, a total of eighteen, preserves two very clear examples in this regard. The first is a seven-meter tower divided into five sections that stands just eight inches from the ceiling. A steel structure topped with cement-varnished fabric tassels that must be reviewed and completed each time the work is moved, giving its imprint an unfinished appearance, always awaiting the appearance that the last auction will leave on each occasion. In fact, she herself acknowledged in interviews that "I don't have a conclusion for the sculptures. That is something that the work does" during its development. Estela Solana highlights another aspect and maintains that in Barlow "temporality, fragility or ordinary materials and their interrelation with space" are extremely relevant.
Perhaps this interest in what is not finished, or what is always being redone, is what underlies the sculpture "untitled: modernsculpture", made in 2022. This work is based on, or takes as a principle for its realization, a monument that she herself saw during a visit to Kiev in 2012 and that, due to the current dispute between Ukraine and Russia, it has been damaged. This is connected, in turn, with other of the curiosities that moved her artistic spirit.
Phyllida Barlow, who plays with the rough and the delicate, with construction materials such as cement, but inscribed in compositions with an air of clear fragility, felt from the beginning an innate propensity for devastated landscapes, vacant lots, all those horizons urban or outside the cities made of landslides, iron forests, concrete blocks and rubble that fed his imagination and that he would later translate in some way into his sculptures. In fact, Barlow acknowledged in several interviews that her father used to take her to visit the aftermath of the bombing of London during World War II. This very thing led him to become interested in the ruins of the Twin Towers in New York after the attack on September 11 and to observe how London's Skyland was constantly changing, thanks to its incessant expansion and metropolitan constructions. An always unfinished border, also, perhaps, a metaphor for her sculptures always pending a further finish.