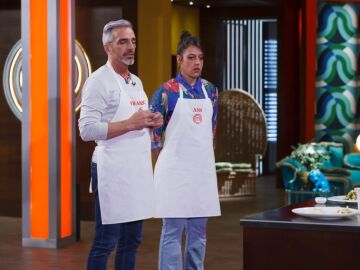 Everyone has their time, even the greatest. Francesc, affectionately known as Paquito 'La Leyenda', was expelled from culinary talent after poorly preparing an eggless flan. The ilerdense said goodbye to his companions; The aspiring Francesc dies, but the legend of Paquito remains. Big.
In the 16th program of the 11th edition of 'MasterChef', now without the presence of Camino, applicants and judges visited the Pinar de Aravaca Residence for the Third Age, in Madrid. Later, the teams had to put all their feelings into their excitement when it came to reproducing the menu created for this event by chef Pepa Muñoz, who has a Repsol sun for El Qüenco de Pepa, since the creations would be savored by 70 residents and employees of the residence. In addition, the two winners of 'MasterChef Grandparents' also attended: Guadalupe Fiñana and Almudena Gandarias.
Jorge Juan and Claudia, the best and worst of the preliminary test, would be the captains of the different groups. The Italian took the opportunity to smooth things over with Pilu by including her in her first team. The blue team, the one commanded by Claudia, was the winner of the test. Although both groups were congratulated by the chefs for their good work.
Subsequently, the losing team, the reds, returned to the kitchens ready to fight to continue in the competition. For dessert, each black apron (Álex, Francesc, Ana, Jorge Juan, Jotha and Marta) had to replicate one of the dishes adapted for allergy sufferers and intolerants proposed by the jury. Meanwhile, the winners of the sixth edition of 'MasterChef Celebrity', Juanma Castaño and Miki Nadal, cheered them on during this challenge.
Jotha (in charge of ordering the preparations) made a Santiago cake without almonds; Marta, a red shrimp ravioli putanesca style; Jorge Juan, a cake from Santiago too; Ana, a lasagna; Paquito 'La Leyenda', a flan without eggs, and Álex, other ravioli. They had 60 minutes for it.
Jorge Juan's Santiago banana cake "is not from Santiago", judged Jordi Cruz. Likewise, Jotha's "is silicone" according to Pepe Rodríguez. On the other hand, Marta's ravioli "are delicious" (Jordi dixit), while Álex's, in Jordi's opinion, "is the worst dish he has ever made". Paquito 'La Leyenda' presented a flan without eggs "that doesn't taste like anything". And Ana triumphed with a 'frutti di mare' lasagna.
After the deliberation of the shortlist, Ana and Marta are declared the best candidates for the challenge. Who does not continue in the kitchens of 'MasterChef' is Francesc, aka Paquito 'La Leyenda'.