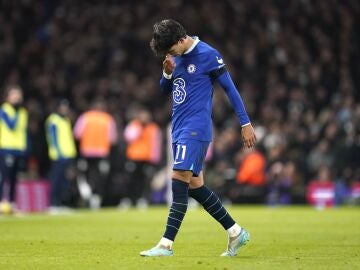 Chelsea do not have any purchase option on Joao Félix, so the 23-year-old attacker will return to Atlético Madrid. However, the Portuguese has no intention of returning to the rojiblanco team, especially now that Simeone is assumed to continue next season. Joao Félix wants to continue in the Premier League and, although he has been linked to Newcastle, he wants to continue at Chelsea as he himself has stated.
«I still don't know what my future is going to be, but these four or five months here I love it. I would really like to be here next season," she said.
Since his arrival at Chelsea in the winter market, Joao Félix has played a total of 14 games in which he has scored three goals. Mauricio Pochettino will train the London team next season and, as we have in LAOTRALIGA, he has the Portuguese for the next season.
The footballers that Chelsea will offer to Atlético for Joao Félix
Atlético de Madrid, for their part, would be open to cashing in on Joao Félix, but never for less than 100 million euros. However, Chelsea will see their income considerably reduced after not having qualified to play European competitions next season. For this reason, in order to lower its price, and aware that Atlético de Madrid is looking for players in its demarcation, Chelsea will offer Aubameyang and Marc Cucurella to Atlético de Madrid for Joao Félix. Will both parties be able to reach an agreement? At the moment Joao Félix has already taken the first step, making it clear where he wants to play next season.