There are new arrivals in stores, or in a specific store, and they take everything by storm thanks to factors such as their functionality, their aesthetics or their price, and when all this comes together, we are undoubtedly facing a resounding success that is going to explode. , as in this case. Today we show you a Ikea product that you don't even expect that you can find it there but that you are going to buy it quickly to use it each and every summer day… run, fly!
In the extensive Ikea catalog you can find practically everything you may need for the interior of your home, and also for outdoor spaces, such as terraces, gardens, patios, etc., and even in many cases also articles that you You can take it to the beach or the pool. The Swedish store succeeds in Spain and in many other countries thanks to a formula that works and that the public likes a lot.
The Ikea beach chair that you don't know you need
It's about the STRANDÖN beach chair, a wonderful chair, the one that your grandmother used to take to the beach all her life to sit and watch you while you bathed and that no matter how many years and generations pass, it will continue to be one of the best-selling summer items in the establishments that sell it. have for sale. It currently has a price of only €24.99, a great bargain that is worth investing in since if you like to go to the beach or the pool you will get a lot out of it.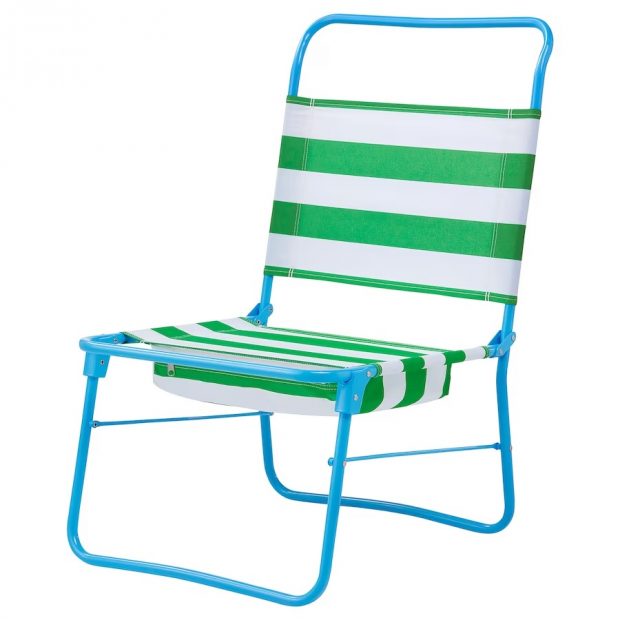 It's fantastic Ikea beach chair It is a white and green/blue color design, the perfect solution to enjoy the beach without having to lie down or sit directly on the ground, so you can spend hours in a very comfortable chair that you will love both for its practicality and its design and how much it offers you. Under the seat there is a hidden pocket in which you can keep your valuables when you go to bathe, so you can not steal them if friends of others appear.
On the back of the chair you can hang your swimsuits and towels to dry in the sun, in a very short time they will be dry and ready to be used again, and without having been stained with sand. Thanks to its compact size and having handles on the sides, it can be carried comfortably from one place to another, and its wide seat provides you with enough space so that you can sit with total comfort and freedom of movement. It can be easily folded for storage.
Regarding the materials used for its manufacture, the fabric part is 100% polyester (at least 90% recycled), while the structure is made of steel and polyester powder coating, and the strap is 100% polypropylene.