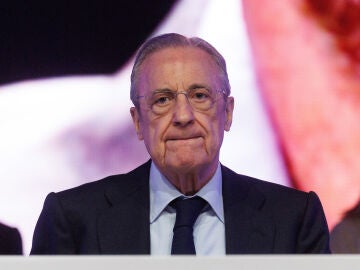 Florentino Pérez, president of Real Madrid, censured on Tuesday the racist insults received two days ago by the Brazilian soccer player Vinicius Júnior in the match against Valencia at Mestalla and said that "the refereeing structure of soccer must be radically changed." The top manager of Real Madrid took advantage of the institutional visit to the headquarters of the Community of Madrid to celebrate the Euroleague won by the basketball team to show his opinion on what happened two days ago in Mestalla.
"What happened is really very serious, with the aggravating circumstance that it is not the first time it has happened. Society does not deserve what is happening and I want to make it clear that Real Madrid is not going to tolerate more incidents and racist insults against any of our players", said Florentino, during his speech.
"It is essential to radically change the arbitration structure of football in our country so that the person who suffers it can never be held responsible for the crime, as is happening now," he concluded in a clear allusion to Vinícius, sent off in the match against Valencia.
Yesterday, in a second statement issued by Real Madrid, the club already charged harshly against the RFEF and the work of the referees.
"Passivity and Helplessness"
"We are surprised by the statements by the president of the Spanish Football Federation, Luis Rubiales, because being the head of Spanish football and the refereeing establishment, he has allowed that forceful action has not been taken, according to FIFA protocols, to avoid the situation that has come to be. The image of our football is seriously damaged and deteriorated in the eyes of the whole world. Their passivity has contributed to the helplessness and defenselessness of our player Vinicius. The referees, far from acting firmly and apply the regulatory protocols, have chosen in most cases to inhibit themselves and avoid making the decisions that corresponded to them".
"Just yesterday -the letter continued-, the referee and those responsible for the VAR evaded their responsibilities and made unfair decisions based on incomplete images, which were not seen in their entirety, which were biased and which caused the direct expulsion of our player Vinicius Júnior Unfortunately, what happened yesterday and the management that was carried out by the referees and the VAR, we do not perceive as something isolated, but as something that has been repeated in many of our matches.The victim can never be held responsible for the crime who suffers it."
"For all this, – concludes Real Madrid – we are extremely concerned that no measure has been taken by the Spanish Football Federation in all this time, despite the obvious and repeated alarm signals that our club has been denouncing.