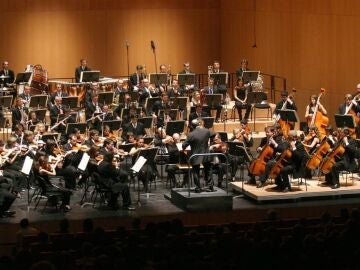 The works committee and the management of the Royal Seville Symphony Orchestra (ROSS), whose staff had been on strike since March, reached an agreement on Tuesday for the new collective agreement, thanks to which the strike call was lifted.
According to the CCOO, the agreement, signed before the Extrajudicial Service for the Resolution of Labor Conflicts of Andalusia (Sercla), includes the commitment to start the negotiation process of the IX collective agreement under the presidency of the Andalusian Council of Labor Relations, with "accumulated wage increases of four percent for 2022 and 2023 that will be paid in a single payment as quickly as possible, the start of an urgent temporary contracting process while the future ROSS squad is addressed within the negotiation of the new agreement, the commitment of study mechanisms so that the workers of the ROSS continue to recover purchasing power or the creation of a commission to assess the Strategic Plan that includes the opinion of the workforce and where the legal enclave of the ROSS within the public sector will be studied".
The general secretary of the Provincial Union of Services to the Citizenship of the CCOO of Seville, Mari Paz Vargas, has celebrated the signing of this agreement "thanks to the enormous mediation of the CCOO with the Seville City Council and the Junta de Andalucía", members of the ROSS. "We have achieved the main demands of the staff," she assured.
According to the ROSS, the agreement, reached within the board of directors of the institution, made up of the City Council, the Board and the company committee, contemplates "the commitment of the administrations to apply a salary increase of 1.5% retroactive as of January 1, 2022, and of the 2.5% applicable from January 1, 2023 cumulative over the previous one, in addition to studying the possible loss of purchasing power of workers and temporary coverage in the last quarter of 2023 for four jobs artistic staff vacancies.
"Another of the points of the agreement will promote the negotiation of the new collective agreement for workers within the framework of the Andalusian Council of Labor Relations, which will hold the Presidency of said negotiation, as well as the preparation of a strategic plan for the ROSS project of the hand of an external consultant of recognized prestige that must be completed within a period of 4 months, thus creating a new line of collaboration, dialogue and joint work that will consolidate the Royal Orchestra of Seville as a fundamental cultural institution both in the city and of Andalusia", details the address.
Both the board of directors of the ROSS and the representatives of the workers have expressed their satisfaction with the agreement reached, thus confirming their firm commitment to the ROSS and the fundamental role it must play in the cultural life of the city, according to the institution. cultural.