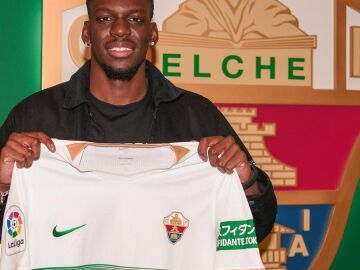 Despite their relegation, Elche is ambitious for the next season, in which they are already working confident of returning to the First Division as soon as possible. With that objective, Sebastián Beccacece would have asked the board to make an effort to retain Randy Nteka in his ranks. The 25-year-old midfielder joined the Elche team on loan from Rayo Vallecano. Since then he has played 11 games, 7 of them as a starter.
For this reason, according to Diario Franjiverde, at the request of their coach, Elche will seek to take ownership of Randy Nteka. The aforementioned media indicates that the operation would be around 2 million euros. However, before finally parting with Randy Nteka, Rayo Vallecano, which is in talks to renew Andoni Iraola, will wait to find out who its next coach will be. If the Basque continues, the club will see fit to negotiate the transfer of the midfielder to Elche.
Randy Nteka could continue in Elche and Pere Milla leave the Elche team
Despite this, Jorge Sampaoli wants to take advantage of his knowledge of Spanish football to strengthen his team at the expense of the already relegated Elche. Pere Milla would be the player that Jorge Sampaoli would like to bring to Flamengo.
The clause of the 30-year-old winger has gone from 12 to 6 million euros after the relegation of the Elche team. Even so, Jorge Sampaoli's Flamengo could get the services of Pere Milla for an even lower price, according to what they say from Alicante.