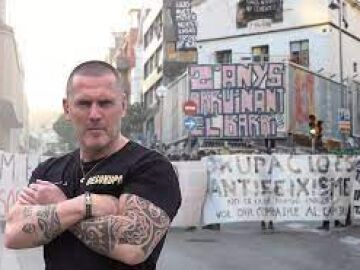 The Desokupa company, and its founder and leader, Dani Esteve, are once again in the news, having announced a demonstration "against Ada Colau" on Thursday at 9:00 p.m. in the University of Barcelona square. The concentration will come after the tense days in relation to the "squatted" houses of Bonanova, Kubo and La Ruina, which provoked street protests of all kinds.
In addition, the "squatters" of the Ruïna have called for their part another demonstration for today, at 7:00 p.m. and in the same square mentioned.
Esteve has published a video to call his demonstration. He cites all those who are against Ada Colau "and what she has done with our beloved city." "Go to the pharmacy for a 'container' of Fortasec, which you will need this week," he concludes, referring to the mayoress. Likewise, he assures that they will take to the streets "peacefully."
"Sources of the Mossos have just leaked to me that they are considering proceeding with my arrest as I step on Barcelona, ​​I don't know if it is official or not", he pointed out in a video, and added: "If they want to arrest me in front of 200,000 people , they do".
At the time, Desokupa gave up trying to evict the "squatter" homes from Plaza Bonanova in Barcelona, ​​as they had announced, although they did demonstrate in front of the buildings in support of the residents who were protesting the occupations.
"We are not going to assault anything," said Esteve. He explained that after meeting with mediation agents from the Mossos d'Esquadra, they preferred to modify their initial intentions and limit themselves to demonstrating peacefully in Bonanova square against the "squatters": "We don't want any injuries."