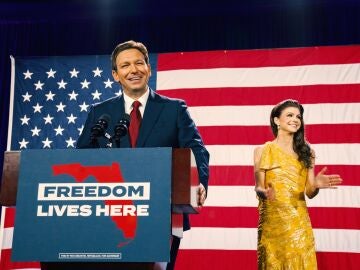 The governor of Florida, Republican Ron DeSantis, will announce this Wednesday along with businessman Elon Musk, on Twitter, his candidacy for the Republican primaries with a view to the 2024 presidential elections, the Fox News channel reported on Tuesday.
Sources close to the governor confirmed that DeSantis will appear at six in the afternoon together with Musk on Twitter Spaces and there he will talk about his candidacy, the outlet said.
Before that announcement, DeSantis is expected to submit to the Federal Election Commission the documents required to register his candidacy, the channel added.
Neither Musk nor DeSantis have said anything on the subject so far.
Regarding the launch of DeSantis' candidacy, a movement created by former US President Donald Trump (2017-2021) came out today to say that it is "one of the most out of touch campaign launches in history modern".
"Every day, more and more Americans realize how out of step Ron DeSantis is with their values ​​and how ineligible he really is," the Make America Great Again (MAGA) movement said in a statement.
Supporters of Trump, who by all polls is the undisputed front-runner for the 2024 Republican primary, lashed out at DeSantis for his "support for a national sales tax that would raise taxes on 90% of families" and his intent to of "cutting Social Security and Medicare."
"DeSantis is simply not ready to be president," but "President Trump is ready from day one to change our country, reverse Biden's disastrous policies and make America great again," said Karoline Leavitt, a spokeswoman for WIZARD.
Trump criticizes everything the Florida governor, who was previously his political protégé, does.
Musk, owner of SpaceX, Tesla and Twitter, among other companies, has been sympathetic to DeSantis for months. In a conversation on Twitter in mid-2022, before the November midterm elections of that year, he responded to a user that he planned to vote for the Republican candidate in 2024 and when asked for his favorite he replied: "DeSantis".
Musk has also pointed out that one reason not to support former President Donald Trump is his age – he will turn 77 in June.
"If DeSantis runs against (President Joe) Biden in 2024, he will easily win, even without campaigning." Musk said.
The governor of Florida has also shown his sympathy for Musk and, when the mogul was in negotiations to buy Twitter, said that his entry into the platform would be a "setback" for the "media that nobody trusts anymore." ", among which he mentioned NBC and CNN. He has also spoken in past months of his efforts to get Twitter to move its headquarters from California to Florida.
So far, the candidates for the Republican primary are former President Trump, who is the favorite in all the polls, the former governor of South Carolina and former ambassador to the UN Nikki Haley, the former governor of Arkansas Asa Hutchinson, the businessman Vivek Ramaswamy and the African American Senator Tim Scott.
A demonstration is called for this Wednesday in Miami, near a hotel where supporters of DeSantis will gather on the occasion of his almost certain candidacy.