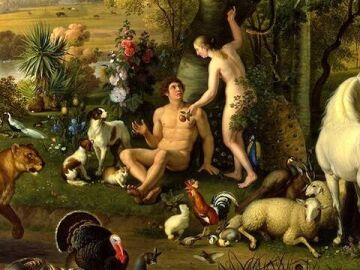 The Book of Genesis, with which the Holy Scripture begins, narrates the scene in which the devil tempts Eve to disobey the command received from God, "not to eat the fruit of the tree of the knowledge of Good and Evil". The evil one represented in the serpent convinces Eve of this, arguing that He does not want them to taste that fruit because he knows that if they did, they would be other gods like Him ».
Theologically, this mandate from the Creator is interpreted as a clear limit to moral relativism that denies the existence of an objective good and evil established by God, attributing to man – "male and female he created them" – the ability to decide autonomously in each situation. what is right or wrong. At a general level, relativism is a reality already established in the West (with the US and the EU at the forefront) as a secular dogma in fact and in law, already imposed as mandatory, and acting as an authentic "dictatorship of relativism" in well-known expression coined by Benedict XVI. The perimeter of public debate accepted as "politically correct" is circumscribed to that dogma whose specific content applies to what Joseph Ratzinger himself defined as "the creed of the antichrist."
This desire to want to be "other gods" is increasingly developed in our current civilization, with transhumanism being one of the ultimate expressions of this aspiration, manifested in wanting to eliminate the limitations of our human nature, in particular by avoiding the suffering caused by pain, and through super longevity, with immortality as the supreme aspiration. In practice, and as the expert in the field Albert Cortina points out, it already acts as if it were a replacement religion –especially Christianity– offering a "technological" salvation with an immortality in cyberspace that they call "cybernetic". For transhumanists, man is basically information, and they aspire to achieve this "cybernetic" immortality by transmigrating that data from the human brain to an entity other than the body. This new man resulting from this hybridization with a digital medium will give rise to the "avatar" –a fictitious being– who will enjoy the paradise of the metaverse without any effort on his part: it is a "low cost" redemption as Professor Albert Cortina affirms. Transhumanism defines precisely that state of transition of the human being from his fallen nature to a later one where those limitations are overcome by the posthuman being. The AI ​​is already preparing us for that future and its prophets, priests and priestesses are identified with a badge on their lapel.