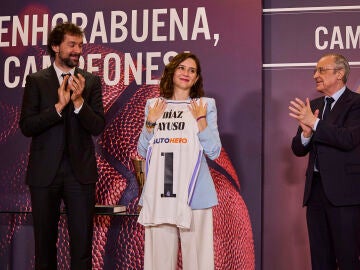 The feat of the Eleventh caused Isabel Díaz Ayuso and José Luis Martínez Almeida to make a break in the frenzy of the electoral campaign to receive the heroes of Kaunas. The president of the Community of Madrid, in the presence of Florentino Pérez, highlighted the team's ability to "persevere and believe, two values ​​of a true leader" and thanked the white club for "teaching to fly with ambition".
"The road has been hard due to injuries, problems and bad moments. Sergio Llull's basket with three seconds remaining is part of that epic moment. It is the lesson you leave us, your ability to fight together as a team", Ayuso stated in his speech. "This club is characterized by its lordship, greatness and enormous faith. That is the attitude of a true leader, to believe and persevere," said the president, who highlighted the work of the coach, Chus Mateo, who "has not had an easy year ". "Real Madrid is doubly great for its sporting successes and for its commitment to the values ​​and principles that make us great as a society. Everything Real Madrid does transcends football and basketball and every time it plays in Spain or the world projects the image of the country," he said.
The mayor recalled that he took office on June 15, 2019 and a week later he was already receiving the first jersey of the white club's basketball section on the occasion of the ACB title. "I remember that Captain Sergio Llull told me that it would not be the last of the legislature," he joked. "It is a victory that makes history. You are the symbol of this city and we are proud of what you have achieved and the epic that has surrounded the achievement of the title will be remembered," he said. The mayor also praised Chus Mateo. "You were trained at the Agustiniano and as San Agustín said, tears are the blood of the soul and you squandered all the soul in the world. As a team you magnify the name of this city. We are deeply proud of Real Madrid, how you compete and the values ​​you you transmit," he said.
Llull, the captain, winked at the president: "Thanks to the president because without you none of this would be possible and thanks for that little gift that you are going to give us for having won the Euroleague." "It has been a very difficult year. Nobody had come back from 0-2 against and it could not be other than Real Madrid and in the Final Four. Everyone has been incredible. It is a team that has never given up and has not he has lowered his arms", commented the captain, who was hopeful of returning soon" with the League trophy.