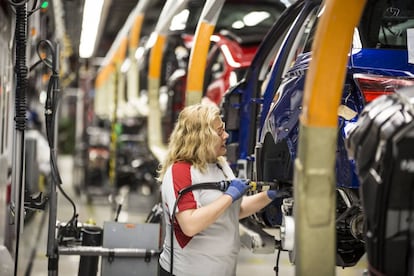 A woman works in one of the assembly lines of the Seat Martorell factory.
The European automobile association, ACEA, continues to pressure the countries of the European Union to modify the Euro 7 emission regulations that are supposed to come into force from mid-2025 (it will foreseeably be delayed). According to a Frontier Economics report cited by ACEA on Tuesday, if the rule continues as it is currently formulated, diesel cars will become more expensive by an average of 2,629 euros, while those that use gasoline will increase by around 1,862 euros. This is five and ten times more, respectively, than the European Commission's calculations, according to the study. The trucks, for their part, will cost 11,707 euros more, compared to the 2,765 euros more expensive that Brussels calculates.
Thus, this report gives more concrete figures to what ACEA, led by its president Luca de Meo, has been denouncing for months. The Italian, who is also CEO of the Renault group, had assured in January that the standard would increase the price of new cars by around 2,000 euros. This would, in turn, impact production with possible closures of plants in Europe.
Following the figures presented in this study, Euro 7 would mean a significant increase in the price of very popular cars in the Spanish market. For example, a Seat Ibiza, which currently costs 14,450 euros in its basic gasoline version (it does not have a diesel option), would be worth more than 16,300 euros with Euro 7. A gasoline Opel Corsa would go from 19,100 to 21,729 euros; while this same diesel car could go from 22,400 to cost more than 25,000 euros.
Image of an Opel Corsa. Enes Kucevic
Changes to Euro 7 emission regulations
The new regulation proposes to tighten the limit of nitrogen dioxide emissions for diesel cars, and will measure the pollution of brakes and tires. In addition, the environment in which the measurements are made will change, in a context of driving with extreme weather conditions.
According to Anfac, the Spanish employers' association of car manufacturers (it is within ACEA), the most affected vehicles would be the smaller diesel ones. This is because larger vehicles already have catalyst systems that help reduce emissions, something that small ones do not have today, because the latter consume less and therefore do not need them. With Euro 7, the employer explains to CincoDías, a small diesel vehicle would have to include a urea system that reduces its emissions, which, in addition, will increase its weight. This does not mean that the standard does not affect larger cars, but to a lesser extent and, in addition, they can better face a price increase (it is not the same that a 15,000 car becomes 2,000 euros more expensive than a 40,000 car). ).
"We are the only sector that has to completely change our technology in a period of 12 years [porque en 2035 solo se podrán matricular coches de combustión que usen combustibles sintéticos], something that we will do with investments worth 250,000 million. However, at the same time, we are faced with a new challenge to which we will have to allocate a large amount of money. In our calculations, in the strictest scenarios of application of the Euro 7 standard, there will only be a 4% reduction in emissions in passenger cars and 3% in heavy vehicles", the general director of Anfac had complained in February, Jose Lopez-Tafall.
"The European automotive industry is committed to further reducing emissions for the benefit of the climate, the environment and health. However, the Euro 7 proposal is simply not the right way to do it, as it would have an extremely low environmental impact at an extremely high cost," Sigrid de Vries, ACEA's director general, said on Tuesday. "Further environmental and health benefits will be achieved by transitioning to electrification, while replacing older vehicles on EU roads with highly efficient Euro 6 models," De Vries added.
Follow all the information about Cinco Días on Facebook, Twitter and Linkedin, or in our newsletter Agenda de Cinco Días
Five Days agenda
The most important economic appointments of the day, with the keys and the context to understand their scope
receive it