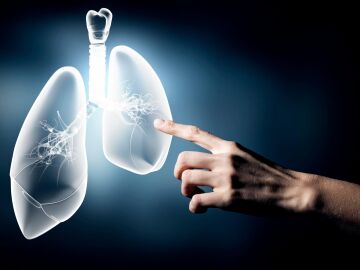 Lung cancer is a serious disease and its lethality is increasing more and more in Spain, so it is vitally important to know about it; both its risk factors and its symptoms. In fact, this is the most frequent cause of cancer in our country, according to the Spanish Society of Medical Oncology. During their development, in this case the tumors affect the lungs, which are the organs responsible for carrying oxygen to the blood and removing carbon dioxide from the body.
Although much progress has been made in this field, dramatic figures are hidden behind this disease. Lung cancer continues to be the first deadliest among all cancers in Spain, for both sexes. To this is added that it is already above the rest of the tumors in terms of lethality. For several years now, deaths from this cause have been growing, a situation that worries the medical community.
Specifically, experts from the Spanish Lung Cancer Group (GECP) recently warned that in 2022 deaths caused by this tumor increased by 2.4%, a "worrying" increase that can be observed in both men and women. women.
"Each year approximately 31,000 cases of lung cancer are diagnosed in Spain, which is growing more and more in the female sex, now accounting for 1 in 4 patients," adds Dr. Bartomeu Massuti, secretary of the Spanish Lung Cancer Group (GECP). ) and head of Oncology at the General Hospital of Alicante, in a statement.
Likewise, one of the problems with this type of disease is that its symptoms can vary and be similar to those of other respiratory diseases. This can make it difficult to diagnose it in its early stages. However, there are certain common symptoms that may indicate the presence of lung cancer.
Causes of lung cancer
Cigarette smoking is the number one cause of lung cancer. "New primary prevention policies and protection of the population against tobacco are necessary. We have a lot of room for improvement since we have been noticing a stagnation in the smoking cessation of the Spanish population for some time," adds Dr. Bartomeu Massuti.
Thus, quitting smoking significantly reduces the risk of developing this pathology. It is estimated that, if there were no tobacco, we would practically eliminate 80% of these tumors.
Lung cancer can also be caused by using other types of tobacco (such as pipes or cigars), breathing cigarette smoke, being exposed to substances such as asbestos and radon at home or at work, and having a family history of lung cancer. lung cancer.
types of lung cancer
Lung cancer groups a variety of diseases that behave differently even though their origin is pulmonary. In general, it can be divided into two types: small cell or small cell lung cancer and non-small cell or non-small cell lung cancer.
Small cell cancer accounts for about 10-15% of all lung cancer cases. As the name suggests, the affected cells are small under the microscope. It is common for this cancer to grow rapidly. It only develops in smokers and ex-smokers.
In contrast, non-small cell lung cancer is the more frequent of the two types, consisting of 85-90% of cases. In turn, it has several subtypes, among which are adenocarcinomas (the most common). Non-small cell cancer develops in people who smoke, ex-smokers, secondhand smoke, or people who have been exposed to radon.
Lung cancer symptoms
The symptoms of lung cancer can be different for each person. Some people have respiratory or lung-related signs. In others, lung cancer may have spread and cause specific symptoms in the affected part. There are people who, on the other hand, only present general malaise. But, usually, some symptoms include:
Persistent cough: Coughing is a natural reaction of the body to clear obstacles in the airways. However, if it persists, does not disappear after several weeks or worsens, it is a reason to visit the doctor. Especially if the cough becomes more intense or occurs along with other symptoms such as shortness of breath, chest pain or coughing up blood, it is important to go for an evaluation as soon as possible. Shortness of breath: If you have shortness of breath, especially during activities that would not normally tire you like walking or even lying down, it could be a sign of lung cancer. Chest pain: Chest pain can be a symptom of lung cancer if it is constant and does not go away with symptomatic treatment. It can be caused by the tumor itself or by the presence of metastases (cancer cells that have spread to other organs) in the chest area. Fatigue: Fatigue, tiredness, or weakness can be a sign of lung cancer. If you feel constantly tired and can't do activities that you normally could without problems, you could be a victim of lung cancer. Fatigue may be due to lack of oxygen in the body due to obstruction of the airways by the tumor or the presence of metastases in other organs. Hoarseness: If the hoarse voice persists for more than three weeks, you should see a doctor, since cancer can irritate the vocal cords. In addition, hoarseness or loss of voice may also appear if the tumor spreads and affects the nerve that moves the vocal cords. Unexplained weight loss: If you have lost weight without dieting or changing your eating habits, this could be a symptom of lung cancer. Weight loss may be due to a lack of appetite, difficulty swallowing, or the presence of metastases that affect the body's ability to absorb nutrients from food. Speech problems: This may be due to the presence of a tumor in the larynx or pharynx, which are organs at the top of the trachea and are involved in speaking and swallowing. Anemia: Anemia is a condition where you have a low number of red blood cells in your blood. Red blood cells are necessary to carry oxygen to the tissues of the body. Anemia can be due to blood loss due to metastases in the circulatory system or a lack of red blood cell production due to metastases in the bone marrow, which is the spongy tissue inside the bone marrow. bones and produces red blood cells. Coughing up blood: If you notice that your cough is producing bloody mucus or phlegm, it is important to see a doctor immediately. This could be a sign of lung cancer or another serious condition. Coughing up blood may be due to the presence of airway metastases or irritation of the airways due to the tumor.
Lung cancer may be accompanied by other changes, such as repeated bouts of pneumonia and swollen or enlarged glands inside the chest in the area between the lungs.
It is important to remember that these symptoms can also be caused by other respiratory diseases and do not necessarily indicate the presence of lung cancer. However, if you have any of these symptoms, it is important to see a doctor for proper evaluation and diagnosis.
Lung cancer treatment
The choice of treatment for lung cancer will depend on the type and stage or extent of the cancer, the size of the tumor, or the type of cancer. May include:
Surgery Radiotherapy Chemotherapy A combination of these options The GECP requests that research be promoted and that patients have access to innovative therapies. Research must be "promoted and patients can access innovative therapies regardless of their place of residence," argues Massuti.