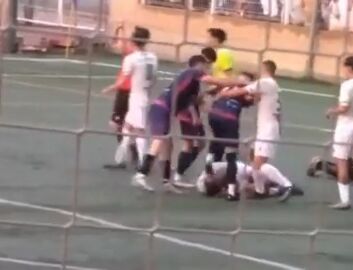 A soccer player from Santa Fe, a Granada team from the Primera Andaluza, was unconscious for two minutes after being stomped on the head by a player from Puerto de Motril during the Primera Andaluza match played last weekend, in which various incidents.
The attacked Santa Fe player was stomped on the head, presumably voluntarily, by a Puerto de Motril soccer player when he was on the ground after being hit, according to the images of the match.
This fact caused him to lose consciousness for two minutes, apart from dizziness and intense headaches, according to a report of injuries after going to a medical consultation, the Ideal newspaper of Granada advanced this Tuesday.
The attacker was not sent off in that action, but he was later after attacking another Santa Fe footballer with a punch after Puerto de Motril scored the goal that gave him the victory in the match (1-0) during the 26 minutes added that he had the crash.
During the game, a Santa Fe player was also sent off and another one at the end of the match for threatening the referee and trying to attack him, as reflected in the minutes of the match.
These incidents occur just a few days after another Primera Andaluza match between Churriana and Cúllar Vega also ended with a pitched battle on the pitch involving fans and some players from both teams.
These latest incidents, plus others that occurred in different categories on different pitches, have caused the Granada Referee Association to call an indefinite strike starting next Friday, so next weekend they will no longer be held around of two hundred grassroots football matches in Granada and its province, the group announced in a statement.
The referees of Granada denounce the lack of protection they suffer from the increasing cases of physical and verbal violence that occur on the playing fields.