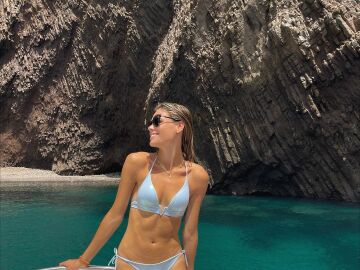 All the expectation is set tonight at 'El Hormiguero' and the interview of Ana Soria and Enrique Ponce with Pablo Motos. No doubts about that. Many media and journalists still do not believe it. After many rumors and weeks of negotiation, Pablo Motos has achieved the unthinkable, for Enrique Ponce and Ana Soria to visit his program and thus give their first public interview together tonight. A fantasy, friends. Three years ago it came to light that Enrique Ponce was beginning a new sentimental stage with Ana Soria, a girl 26 years younger than him. After many months of doubts, criticisms and controversies, the couple will sit next to Pablo Motos and answer their questions in prime time. And we are looking forward to seeing the look that Ana Soria chooses for tonight, but while we discover it, we are going to review the style of Enrique Ponce's girlfriend.
Ana Soria and her first meeting with the paparazzi. The young woman opted for a careful look to go out to dinner with her friends, knowing that she could meet the cameras. A bohemian style, inspired by Ibiza and with that summery white touch. And above all, she has made it clear to us that she is a great lover of fashion and that she follows all the trends. That is why Ana Soria opted for a white top with the most trendy neckline of the summer, in an asymmetrical one. Culottes pants that are also top trend this season, raffia bag and wedges with appliqués. A very Cayetana Andalusian style, yes. These are the latest looks that she has shared on her Instagram account.
Although Ana Soria has abandoned her Instagram account quite a bit, it is clear to us that she is a big fan of dresses or skinny pants with the sexiest tops. She is sure that she will go for one of these two options tonight at 'El Hormiguero'.