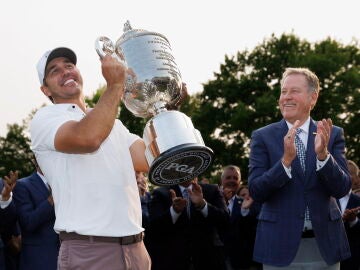 Brooks Koepka is not an activist of the LIV circuit like Phil Mickelson or our Sergio García, who are not content with playing in exchange for shovelfuls of petrodollars but instead proclaim the benefits of golf sponsored by Saudi Arabia against the one they practiced, but their triumph the Last weekend at the Course of Oak Hill in New York, home of the PGA Championship, Greg Norman serves to justify his invention. The golfer from Florida, in fact, is the only player stamped with the Riyadh currency who continues to wear his usual clothing in the tournaments that he plays outside the LIV, such as the Augusta Masters in which he finished second.
But Norman, CEO of LIV, wants to take advantage of the first Grand Slam triumph of one of his turncoats to heighten the interest, very limited, that has so far aroused on the Arab circuit. For now, it's clear that some of his players – including Bryson DeChambeau, fourth on Course Oak Hill – remain competitive at the highest level. Koepka, however, is much more than that. To begin with, since the day before yesterday he is the twenty-first man to reach the not inconsiderable figure of five "majors" won, the same as Severiano Ballesteros. He won his third PGA championship in the state of New York, after those of 2018 and 2019, which must be added to the two US Opens that he won in 2017 and 2018.
Before the pandemic, in fact, Brooks Koepka was destined to become a hegemonic golfer. He led the world ranking for 47 non-consecutive weeks and was losing number one because critics of him blamed him, perhaps rightly, that he only prepared the Grand Slam tournaments. This is certified, of course, by a record of nine titles with five wins in "majors" and four in regular tournaments. Golf purists, always aware of etiquette, also did not appreciate his rather surly character and his ugly habit of constantly spitting during games, a consequence of his habit of chewing tobacco, like John Wayne in cowboy movies.
The road to the top was strewn with obstacles for the young Brooks, however, as he had to kick the secondary circuits of Asia, Europe and South Africa between 2012 and 2014 to accumulate the points that would allow him access to the PGA Tour, of which he is Fixed member since February 2015, when he won the Phoenix Open as a complete unknown. His first victory as a professional was in Spain, specifically in a Challenge Tour tournament (the second division of the European circuit) that was held in September 2013 at the La Graiera club in Calafell (Tarragona). Future winners of higher level tournaments such as Adrián Otaegui or Alexander Levy, among others, played there that week.
At the peak of his art, in August 2019, Koepka sustained a severe patellar tendon injury from a slip during tournament play. What seemed, what was, nonsense became "torment" because the sprain reflected a hip injury that required surgery and the rehabilitation of this surgery, in turn, caused the dislocation of the patella. In fact, the few journalists who have access to his family environment – ​​a very closed circle that includes his brother Chase, a minor professional player whom he has recruited for the LIV – assure that his decision to go with the Saudis was due to his doubts about whether he would be able to return to being in full condition. He is seen yes.