Thirty years after El sol del quince, half a century after his debut with The Spirit of the Beehive, Víctor Erice (Karrantza, 82 years old) has returned to fiction feature film with Close Your Eyes. His screening in the Cannes Première section ends a false drought, since the filmmaker has continued filming in other formats, but it is true that his return to commercial cinema is a wish fulfilled for moviegoers around the world.
More information
El sol del quince received the Jury Prize and the Fipresci Award from international critics in the French contest. So having Cannes host his return makes sense. Erice has been polishing – not overcoming, as some rumors pointed out – his drama until a few days ago. The director has preferred not to attend the contest, something he announced weeks ago, where the cast (Manolo Solo, José Coronado, Ana Torrent, María León and the singer Helena Miquel), the screenwriter Michel Gaztambide and the Producer Cristina Zumárraga. The team entered this afternoon with Manolo Solo dancing to the rhythm of Bruce Springsteen, before heading to his screening.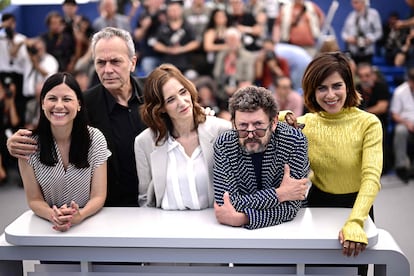 The cast of 'Close your eyes'. From the left, Helena Miquel, José Coronado, Ana Torrent, Manolo Solo and María León, in the morning photo session. LOIC VENANCE (AFP)
The general delegate of Cannes, Thierry Frémaux, has been calling the filmmaker "master Erice" for days, and it is not for less, given his mark on world cinema. But the film, which had been seen by the selection committee, has been scheduled at Cannes Premiere, out of competition and out of special sessions. Frémaux has presented the premiere gala, as usual, in which many members of the Spanish industry have been seen, the Japanese filmmaker Hirokazu Koreeda, the Spanish José Luis Guerín or the Mexican Amat Escalante.
Closing Your Eyes begins its plot when a television program locates a veteran filmmaker, former writer, who, retired, is dedicated to fishing. This director, Miguel Garay (played by Manolo Solo), made a successful first film, but the second was left unfinished decades ago when the protagonist, Julio Arenas (José Coronado), a friend of Garay's from his youth, and a successful heartthrob in the cinema, he disappeared in the middle of filming. Of that second feature film, only a few sequences that will now be broadcast on television have been finished. The investigation of the television program causes an emotional earthquake in the filmmaker, the reunion with his past and the memory of his friendship with the actor.
Víctor Erice, between José Coronado and Manolo Solo, on set.Manolo Pavón
What happened to that actor? Nothing is known, beyond a pair of shoes and his car abandoned by him on the edge of a cliff. His corpse, if he drowned, was never returned by the sea. At the bottom of Closing Your Eyes there is another allusion to the power of cinema as a catalyst for emotions, something that was already conveyed by the look of Ana Torrent, a girl in The Spirit of the Beehive (1973), and which returns here with Erice, and another drama nostalgic with strong masculine presences.
In November 2021, when Erice presented Piedra y cielo, an essay on the sculptor Jorge Oteiza, he said: "I have not stopped being a filmmaker, which has been my main dedication. You forget everything I've done [después de El sol del membrillo], which have been quite a few things that have circulated in places not typical of the film industry. The problem is not producing films, but where they are projected, and in recent years I have made work, but unknown". It's true. In 1994, the filmmaker was commissioned to adapt Marsé's novel El embrujo de Shanghai from producer Andrés Vicente Gómez. He devoted three years to writing it, under the title The Shanghai Promise. In 1998 a production was launched that blew up months later, in March 1999. Years later, in 2002, Fernando Trueba made the film with a different script. Erice's finally ended up published as a book in November 2001.
Since then, Erice has directed short films, has collaborated on various collective films and maintained an audiovisual correspondence with the Iranian Abbas Kiarostami. In addition, she has participated in A place in the cinema (2008), by Alberto Morais, together with Theo Angelopoulos; he has directed pieces about Antonio López, and he repeated with Ana Torrent in Ana, tres minutos (2011), a collective work dedicated to the victims of the Fukushima disaster; and other video installations and film essays.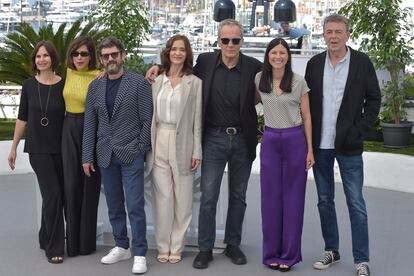 The cast of 'Cerrar los ojos', by Víctor Erice.Europa Press (Europa Press)
Torrent herself recounted in an interview in El País Semanal: "We have maintained a close relationship, a friendship. We have seen each other from time to time. She started talking to me about Closing Your Eyes at Christmas 2021. She came to see me at the theater when I was doing The Maids, and she told me the story. I was going to say 100% yes, but working with him now has really impacted me. He has represented a very personal experience, as if something latent suddenly made sense. There are connections to the girl he left behind in The Spirit of the Hive."
All the culture that goes with you awaits you here.
subscribe
Babelia
The literary novelties analyzed by the best critics in our weekly bulletin
RECEIVE IT
Subscribe to continue reading
Read without limits