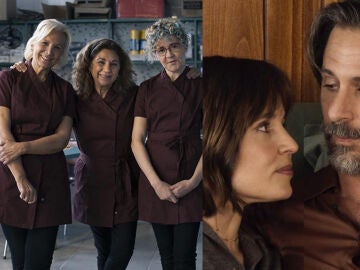 At the end of February, the streaming platform SkyShowtime arrived in Spain allowing users to watch premiere series such as 'Bosé' or recover others such as 'The chosen ones' or 'Por H o ​​por B', a series which was on HBO Max. Three months after its arrival, this platform is back in the spotlight thanks to its catalog expansion.
SkyShowtime has ten new original series, including 'Las Invisibles', by the same creator as 'Merlí', and 'Passing Lies', produced by the Almdóvar brothers. 'Las Invisibles' arrives on this platform on June 5. With eight episodes in its first season, the new series by Héctor Lozano and directed by Menna Fité and Marta Díaz features actresses such as María Pujalte, Lolita Flores and Elena Irureta. The plot centers on a group of cleaners at a luxury hotel in the Mediterranean who are tired of having to deal with the dirt that customers leave them.
Another of the expected fictions is 'Passing Lies'. The comedy series produced by the Almodóvar brothers and starring Elena Anaya, Hugo Silva, Pilar Castro, Quim Gutiérrez, Susi Sánchez, María Botto, María León, Pedro Casablanc and Julián López; It will have eight 30-minute episodes. Although there is still no official release date, this fiction portrays the life of Lucía. A month before her wedding, and just before being appointed director of the company where she works, she is betrayed by her promotion rival, Santi. Lucía is accused of industrial espionage for which she is fired from her. Despite this hard blow, the protagonist decides to hide it from her family by continuing her life as if nothing had happened.
In addition to 'The Invisibles' and 'Passing Lies', on May 26 SkyShowtime will premiere the second season of 'Por H o ​​Por B' and 'Los Enviados', starring Miguel Ángel Silvestre. Although Spanish fictions are not the only ones that can be enjoyed by users of this platform. 'Poker Face', 'Django', 'The Curse' and 'Special Ops' are other international series that the Paramount platform has prepared.
The second part of the fifth season of 'Yellowstone' is also scheduled to arrive before the end of 2023 in addition to '1923', starring Helen Mirren and Harrison Ford; 'Tulsa King' with Sylvester Stallone as the protagonist, and the highly anticipated adaptation of the video game 'Halo' also returns with its second season.