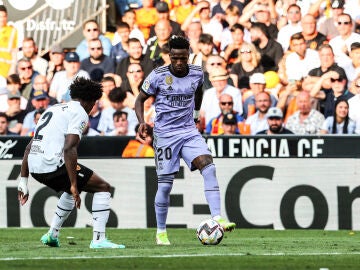 Vinicius has been morally touched by what has happened at the Mestalla and what has been happening systematically throughout the season, almost every time Real Madrid played a league match away from the Santiago Bernabéu. On Monday night, more than 24 hours after the end of the game at Mestalla, he posted a new entry on Instagram, with a video in which he detailed several of the times he has been insulted, calling him "monkey", "macaco" ", "uh, uh, uh", "go pick bananas" or wishing him death. The dates appear and images of the Metropolitan, Mestalla, José Zorrilla de Valladolid, Son Moix are seen… and it ends with the phrase: "Racism is a crime".
Along with the images, he writes a long text in which his low morale is noted and how little he expects from the sports authorities for the situation to change. In fact, the last sentence is lapidary: "This is not football, it is inhumane." "Checked. Every day away from home brings an unpleasant surprise. And this season there were many. Death wishes, hanging doll, many criminal screams… All registered. But the discourse always falls on 'isolated cases', 'an amateur ". No, they are not isolated cases. They are continuous episodes spread across several cities in Spain (and even in a television program). The evidence is there, in the video. Now I ask you: How many of these racists had their names and photos posted on web pages? I answer to make it easier: zero. None to tell a sad story or apologize publicly," says the Real Madrid footballer.
"What is missing to criminalize these people? And punish the clubs sportingly? Why don't the sponsors charge La Liga? Don't the television stations bother to broadcast this barbarity every weekend? The problem is very serious and press releases are no longer useful. Placing blame to justify criminal acts either. It's not football, it's inhumane".