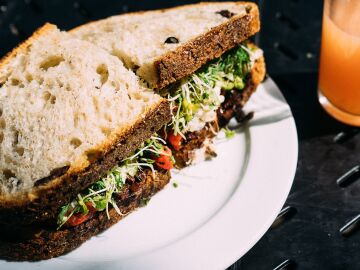 A sandwich is a meal that is prepared using two slices of bread (generally, although it can vary) and filled with a variety of toppings. It is a popular form of fast food and can be found all over the world under different variations and names.
The sandwich filling can include meats, such as ham, turkey, chicken, as well as cheese, vegetables, seasonings, and toppings such as mayonnaise, mustard, or sauce. Some sandwiches may also include additional items such as eggs, bacon, avocado, or fish, depending on preferences and the region where it is made. The sandwiches are versatile and can be customized to one's individual tastes.
Sandwiches are very popular all over the world and the British have it as one of their most traditional meals. These have their own versions and some of them may not be to the taste of all countries. A survey carried out by the British company "Hovis" has revealed the favorite sandwiches of the inhabitants of the United Kingdom and some of them will not leave anyone indifferent.
These are some sandwiches preferred by the British that in Spain would not be so accepted
This survey reveals what are the sandwiches preferred by the British. First of all, the survey highlights that they like to make their mayonnaise sandwiches, with half-sliced ​​bread cut horizontally, accompanied by a packet of chips with cheese and onion. This would be the perfect presentation for the British.
As for the most popular sandwich, there is the ham and cheese sandwich, a classic that is one of the most popular in the world. But, apart from this and some others, such as salmon with cream cheese or chicken, the others would not be so well received in Spain.
For most Brits, their second favorite sandwich is egg mayonnaise and cress, a plant with green leaves and tender stems that is commonly used in cooking as an aromatic herb and salad ingredient, not very typical in our country. In addition to being a sandwich with an unusual mix.
Another of the most voted sandwiches by the British is the ham salad. This is prepared with cooked ham, mayonnaise and "pickle relish", a condiment similar to pickles. This mixture is not very popular in Spain, so we could say that it would be another of the sandwiches that would not be very well received.
In addition to these two, which could cause the most rejection in our country, there are more sandwiches voted for by the British that would not be widely accepted in Spain either, such as the coleslaw, the Bacon, lettuce and tomato or the cheese with pickles.