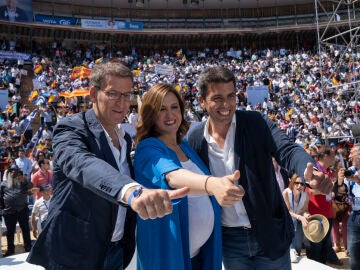 Hateful but unavoidable. Comparisons are created in our brain without looking for them, they are generated spontaneously.
24 hours separate the entry of Pedro Sánchez into the venue chosen by the Socialists to celebrate the central campaign rally in Valencia from that of Alberto Núñez Feijóo in that of the popular.
Let's go to the numbers. 6,000 people say the PSOE managed to gather on Saturday in the City of Arts and Sciences. Objectively it is a generous estimate considering that last February the PP chose the same place, filled it up and said there were 4,000.
The socialists defended that people had been left out and that there were also people in the "chicken coop". But there is more. They gave up holding the act in the Plaza de la Virgen in Valencia for fear of being greeted with banners. The risk of rain was an excuse that came from heaven, but the forecast was light enough to risk. If you wanted, of course.
In the bullring there were more than 10,000 people. The 10,500 seats were occupied and another 1,500 seated in the albero complete the 12,000 that the PP said. Even so, it seemed little to more than one socialist.
However, there is another question just as important as the numerical one. The PP act was a party, the attendees enjoyed their leaders, above all, because Alberto Núñez Feijóo not only dedicated more time to them, but also remembered that he was in Valencia and that he should address his speech to those who had decided spend his Sunday morning at a rally.
Nor is it so complicated to refer to the major issues that affect Valencians: the Mediterranean Corridor, water and financing. But Sánchez simply did not do it. He arrived, greeted, made an announcement that he could have made anywhere in Spain and left.