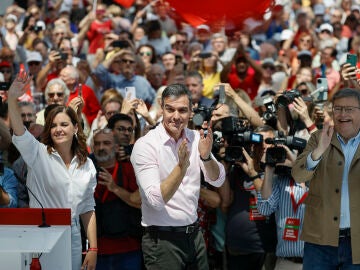 The regional barons of the PSOE, who are preparing to face a probable bad result in the regional elections, have been pointing out, with more or less emphasis, that the political action of the National Government, strongly conditioned by the parliamentary support of the radical left and the nationalists, has been a ballast for their expectations of victory and they prepare an exculpatory argument of their responsibility, in which they charge against the supposed error of La Moncloa of having allowed themselves to be dragged into a national debate that could have distorted the meaning of the elections of May 28.
Certainly, the idea that these elections are a first round with respect to the next general ones, is usually repeated every time a change in political tendency is glimpsed on the horizon, so we would not be facing any novelty. What is new is the transfer of blame to the party leader and chief executive, Pedro Sánchez, as if the regional management itself did not exert the slightest influence on the mood of the voters.
Of course, we are not going to deny that the price that the socialist leader has paid to maintain the legislature -especially, to the nationalist formations-, together with the mess of his direct partners, Unidas Podemos, turned into artists of an extravagant social engineering, can translate directly into a worse perception of citizens in those regions without major identity problems, but there are other factors that should not be ignored by some barons who, moreover, have not done anything practical, since mere rhetoric is useless by definition , to redirect Ferraz's drift.
We are referring to a socialist management model, with an excessive burden on the public sphere, which fails to reduce the gap with the most developed communities in Spain and which translates, for example, in Extremadura, Castilla-La Mancha and the Valencian Community present AROPE rates, which measure the risk of poverty and social exclusion of the inhabitants of a territory, seven points above the national average. We are talking about surgical waiting lists of 157 days in the Canary Islands, 156 days in Extremadura, 106 days in Castilla-La Mancha; 128 days in Aragon and 88 days in the Valencian Community, compared to 63 days in Madrid or 73 in the Basque Country.
We are also talking about some communities with the highest indebtedness over GDP – 45 percent in the case of Valencia, compared to 12.7 percent of the national average – and that present the highest rates of tax pressure on their workers and companies , and with unbridled wealth tax burdens. Indeed, if the results of the elections are close to what the polls predict, Pedro Sánchez will have a part of the blame, but, of course, the barons will also have theirs.