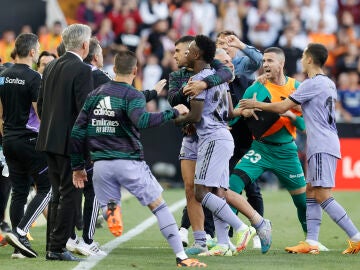 Iglesias Villanueva was the VAR referee for Valencia-Real Madrid last Sunday and is the first victim of the "Vinicius case". The Spanish Football Federation (RFEF) has decided to do without him, considering that he made a serious mistake in the expulsion of Vinicius, since they only showed De Burgos Bengoetxea, the match referee, the images of the Brazilian's slap and not the aggression previous of Hugo Duro.
The referee will direct the game for which he was designated during the weekday and then stop refereeing. The same will happen with another five VAR referees from next season.
Real Madrid has complained about the performance of the VAR in yesterday's game. "Unfortunately, what happened yesterday and the management that was carried out by the referees and the VAR, we do not perceive as something isolated, but as something that has been repeated in many of our matches. The victim who suffers it can never be held responsible for the crime, "says the entity chaired by Florentino Pérez in a statement.