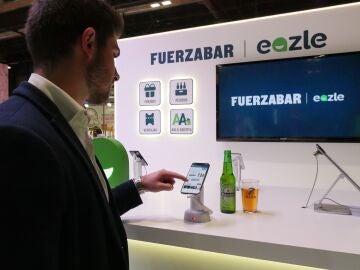 As part of its ambition to be the best-connected brewery and help its hospitality customers, Heineken has launched Eazle, its new platform for managing orders and loyalty promotions, which replaces and unifies the 40 apps and websites through which Until now, the company served its 500,000 B2B customers in the more than 70 countries where it is present.
In figures, these are operations worth more than 7,000 million euros in the last year alone, a volume that the company expects to more than double by 2025, to 15,000 million euros.
eazle's motto ("Your business easy") summarizes the improvements that the platform incorporates to drive business growth for commercial customers of all sizes (distributors and hoteliers) who make their purchases through it. On the one hand, it drastically reduces and simplifies the number of clicks, paperwork and management time to complete orders. And the different loyalty and reward promotions adapted to the customers' business, which can be applied in establishments to increase their sales, are also much clearer and visible.
The advantages of this unification are already being applied to the Spanish B2B platform FuerzaBar, which has been running for four years and which will change its name to Eazle in October.
Thus, Heineken Spain is a benchmark in terms of e-commerce business worldwide for the company, since more than 25,000 hotelier clients and distributors (5% of the world's half a million) already carry out their efforts through its e-commerce, a This figure has been escalating since the global launch and the improvements provided by the Eazle global platform.
"We are developing our traditional B2B sales model, accelerating our digital transformation efforts to discover new sources of revenue and drive growth for both Heineken and our customers. Eazle is at the center of this transformation, bringing together 40 platforms in one, our FuerzaBar among them, reducing complexity and facilitating a unified experience for the customer, helping them to focus on what is most important: growing their business", they explain from the company. .
On the other hand, the new platform uses all the data-based business intelligence necessary to improve the results of Heineken and its clients, providing it with its own artificial intelligence AIDDA. "Another of the objectives of this digital and technological transformation to be the best connected brewery is to attract the best technological talent and Eazle's drive will be a great advance for this path," add company sources.
With this new strategy, the brewery not only seeks to double its number of online B2B customers, but also to position itself among the 10 largest e-commerce platforms in the world. A new competition strategy starts with very considerable figures: at the end of 2022, the different Heineken platforms captured 9,200 million euros in gross merchandise value, 2.5 times the value of the previous year, with the aim of reaching 15,000 million euros in 2025. A growth driven especially by Vietnam, Nigeria, Mexico, Brazil, the United Kingdom, Ireland, France, Italy, Cambodia and, of course, Spain.
Heineken is one of the largest brewers in the world. Belonging to Heineken NV, it has more than 150 years of history and 85,000 employees in more than 70 countries, almost 1,400 of them in Spain, as well as a portfolio of 300 brands and 80 varieties around the world. It offers big brands like Heineken, Cruzcampo, Amstel or El Águila. And others such as Desperados, the Ladrón de Manzanas cider, local brands such as 18/70 or El Alcázar, and specialties such as Guinness, Paulaner, among others.
The Heineken Spain brands recommend responsible consumption.