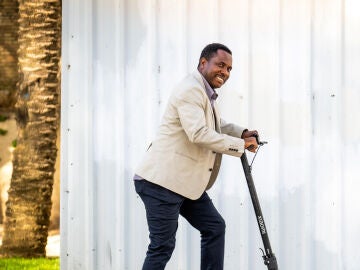 In the last hours of August 15, 2004, when Bienvenu Povele half-naked into the sea off Castillejos, a thought crossed his mind and he almost laughed. It was as if, suddenly, he saw himself from the outside for a few seconds and didn't understand what the hell he was doing there, wet, cold and dark at midnight. He says that he felt as if the sea wanted to engulf him, take him inside. He remembers it like this: «I did not see anything, only the light of Ceuta. How could I have gotten into that mess? I didn't get out of the water until four in the morning and, once out, I couldn't move my body, my leg muscles didn't respond to me and I was unable to start running. The Civil Guard caught me and put me in a cell, they treated me brutally and in the morning they took me to the fence and threw me naked Moroccan next to it. The following week I repeated the operation and I already stayed because the Police caught me in the water. After five days I asked for political asylum.
Today Bienvenu Povele is a 46-year-old Spanish citizen, father of three children, a fan of football and African music, a social worker and a law student. He also aspires to be mayor of Seville with the shirt of a party, For a More Just World (M + J), who was born the same year that he set foot on Spanish soil. The acronyms fit him, which are the story of his life, and the maxim of the training: reduce the inequality gap in all its manifestations.
The M+J candidate lives politics with a sense of commitment that the war in Congo, his country of origin, took away from his entire generation. «There came a time, when Kabila entered Kinshasha, that life became impossible. We had an atrocious fear that we couldn't get rid of, there was no way to claim anything. One day after the beating that the military gave me, I came home without clothes. My father had died at the start of the war, my mother had sold everything we had to eat, and there came a time when everything got so ugly and so hard that I decided to follow my uncle's example and leave.
Like so many young Africans, Bienvenu was the "insurance" for his family. A talisman to guarantee the survival of his six brothers, a mandate under which he set out to cross the continent on a journey north that lasted two years. «I left the Congo in 2002. Since you couldn't catch a plane, I had to go country by country: Congo Brazzaville, Cameroon, Niger, Nigeria, Algeria, Morocco… After my experience I do not advise anyone to take the road. I am categorical. You don't know if you're going to make it alive, it's an infinite risk. I've seen people die in the desert and their family still doesn't know, do you understand?
The proper integration of migrants is one of the goals, but not the only one, of the M+J party. This year they have managed to present more than 610,000 valid signatures in Congress so that the regularization of 500,000 migrants can be debated. They are presented to the regional elections in Madrid (their best result: 10,330 votes), Navarra, the Valencian Community, Asturias and Extremadura. They will also compete for the mayoralties of 18 municipalities.
Bienvenu did not achieve political asylum status despite the fact that the war was bleeding his country dry. He followed the usual process of arraigo after spending time in an irregular situation and after five years he had residency. «I came with the idea of ​​studying, but there was no way. I ended up parking cars like many did, sold CDs, worked in construction… When the papers arrived, the crisis also arrived. I went back to study."
He had to start from scratch because here his diplomas were worthless. She repeated ESO, the university entrance exam, and now studies Law "online". Since he arrived in Seville it was clear to him that this was his city; for the weather, for the people. «I have stayed here because I was very well received from the beginning. I managed to get my mother out of the Congo five years ago so as not to lose her; Life expectancy in my country is 45 years. There I would be an old man about to die.
Does Spain seem like a racist country to you? «I would not say racist, I think what happens is that the problem of immigration is not known. I have come to see towns that when we appeared they directly closed the store ». Asked about what attracted him to M+J, Bienvenu replied that «what they seek, fundamentally, is to end poverty. I come from a country that is rich in resources, but poor. In Spain there is still poverty in many places, although they do not want to talk about it. The poorest neighborhoods in Spain are in Seville. It would be nice to be able to recover them, see what is not working despite the money that has been spent and change it ».