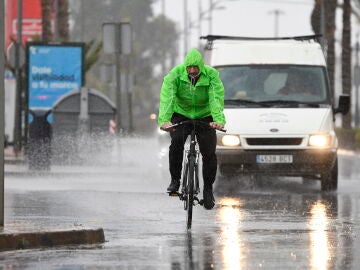 The entire Region of Murcia is preparing for what may be to come. After the announcements of torrential rains issued by the State Meteorological Agency (Aemet), which has led a good part of the Region to be on yellow and orange alert, a total of 14 municipalities in the Community have decided to suspend classes and school activities in educational centers. These are Águilas, Aledo, Alhama de Murcia, Lorca, Totana and Puerto Lumbreras, as well as Cartagena, Fuente Álamo, Mazarrón, San Javier, Torre Pacheco, San Pedro del Pinatar, La Unión and Los Alcázares in the Campo de Cartagena region. .
In the same way, the regional government has decreed the suspension of all outdoor sports activities, in order to avoid any type of incidence derived from the rains, especially in university academic centers.
For her part, the Government delegate in the Region of Murcia, Caridad Rives, has asked citizens to take extreme precautions in the face of the alert for storms and heavy rainfall. "The alert issued this Monday covers until midnight on the 24th, affects practically the entire Region and warns of strong storms and accumulated rainfall of 20 mm in one hour that could reach 60 in some areas of the Region, due to so it is important to keep timely informed, always in official sources, and avoid, if possible, displacements", he requested.
30 liters per square meter
The State Meteorological Agency has activated the orange warning level for rain until 9:00 p.m. this Tuesday for up to 30 liters per square meter in one hour in the Guadalentín Valley, Campo de Cartagena, Lorca, Águilas and Mazarrón.
It is yellow for strong storms that can be accompanied by hail throughout the Community and for rain in the Altiplano, the Northwest and Vega del Segura until the same time.