The President of Ukraine, Volodimir Zelenski, stated this Sunday that, based on the information he is currently considering, the Ukrainian forces still maintain some control over the city of Bakhmut, one of the epicenters of the war, although he has indicated that the town it is completely destroyed.
"I think not," the president replied, referring to a question during the G7 summit about whether the Russian forces, as the head of the Russian mercenary group Wagner, Yevgeni Prigozhin, and the president have indicated in recent hours Russian, Vladimir Putin, had taken control of the city.
To finish settling the issue, Zelenski's spokesman, Sergi Nikiforov, later confirmed to CNN that "the president has denied that Bakhmut has been conquered."
Total destruction
Zelensky has added that the city is completely destroyed. "There is nothing left. Today, Bakhmut is only in our hearts," he added in statements sent by the White House press service during the meeting that Zelenski had with the President of the United States, Joe Biden, at the Hiroshima summit (Japan).
Also the Ukrainian Army, in its last operational evaluation this Sunday, continues without losing the city. "In the Bakhmut axis, the enemy continues with its offensive operations and the fighting for the city is still going on," according to the balance published this morning on the website of the General Staff of the Ukrainian Army.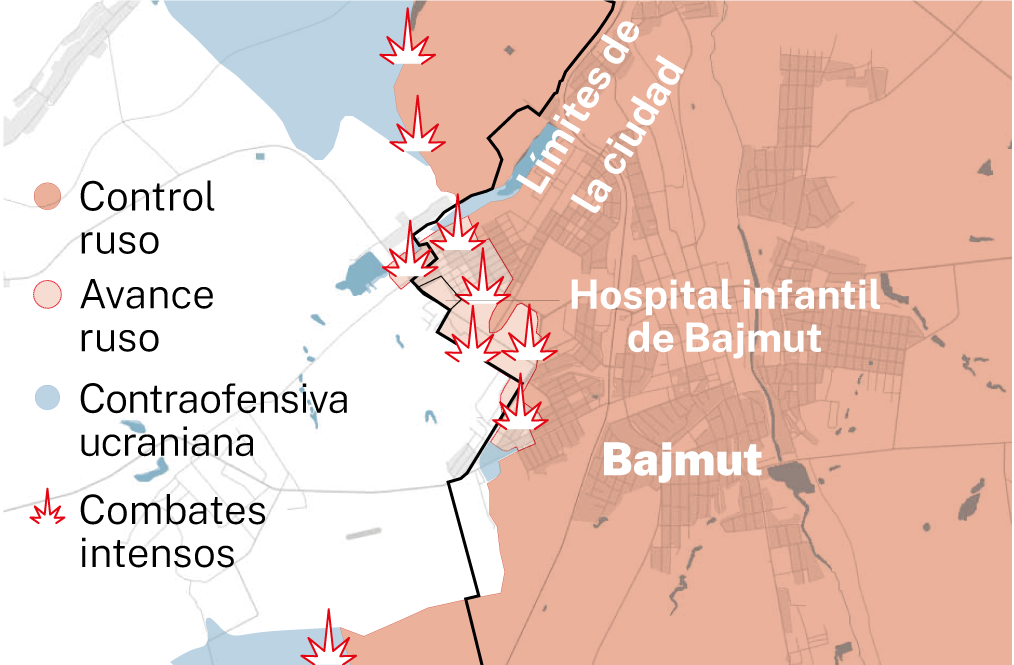 Prigozhin had already advanced this Saturday that Bakhmut had been conquered by Russian forces in a statement immediately denied by the Ukrainian Army. Wagner's boss, in a message to Russian state radio television VGTRK, indicated that his mercenaries intend to completely transfer control of Bakhmut to Russian regular forces "by next May 25."
Late yesterday, Russian President Vladimir Putin congratulated the Army and the Russian mercenary group for the capture of the Ukrainian city, and praised the support provided and the flank coverage provided by the troops of the Russian Armed Forces. to the assault groups of the mercenary group, according to the Kremlin press service quoted by the Russian chain RBK.
Putin's announcement about the capture of Bakhmut, an operation that has lasted more than nine months, coincided with the anniversary of the conquest of the Ukrainian city of Mariupol, according to the Rossiya 24 news channel.
Mariupol, in the southeast of Ukraine and on the shores of the Azov Sea, was the scene of intense fighting during the early stages of the war until it finally fell into the hands of Russian troops in combat that caused the death of at least 25,000 people, according to Ukrainian authorities.