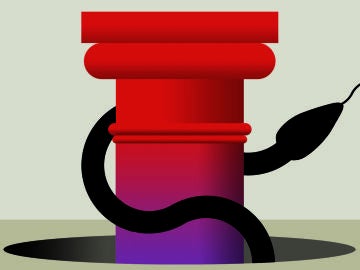 The answer is simple, only those who are obliged to demand it can break the law with impunity. Although it is inappropriate for liberal democracies, this is the biggest temptation for a government that wants to impose a system change without going through a revolution. Let us give a clarifying example: Organic Law 6/2002 on Political Parties indicates in its Article 9, section 3.c regarding the illegal consideration of a Party: «Regularly include in its governing bodies or in its electoral lists persons convicted for terrorist offenses that have not publicly rejected the terrorist aims and means or maintain…". According to this Organic Law, the State Attorney General should intervene in the electoral lists for the elections of local corporations that include terrorists who do not meet the conditions indicated.
At this point, I think it is necessary to review aspects of the criminal organization to which certain criminals who have been included as candidates in the municipal elections belong or belonged. I cannot discuss the legality of a recognized party, since no one claims the application of LO 6/2002 and it is not outlawed, to include murderers who have been released on their electoral lists. What I can denounce is the absolute lack of ethics and even aesthetics or respect for the rule of law that it entails.
ETA, Euskadi y Libertad, was a Revolutionary Movement for National Liberation of Marxist-Leninist inspiration, we would say of the left. It defined itself as a revolutionary, nationalist and socialist organization whose objective was the independence of Euskal Herria. As a national socialist organization it had as its objective the creation of an independent Socialist State or a Soviet-style People's Republic. However, Basque national socialism had little resemblance to Italian or German national socialism of the mid-twentieth century, since the Basque national socialism received the support of the Soviet Union and the Italian and German national socialism were born precisely out of opposition to the Communist International, or in other words, otherwise, to the Moscow-based Third Socialist International.
Despite the fact that ETA was born in 1958 with the supposed intention of saving Euskal Herria from the dictator, just after the entry of Spain into the UN and the end of the international political and economic isolation that Spain suffered for more than a decade, 95 % of their murders were committed in a democracy, after 1978. In addition, almost 45% of their crimes were committed against civilians, politicians, businessmen, journalists, judges, magistrates and the remaining 55% members of the Armed Forces and the Forces and State Security Corps. More than 200,000 Basques have fled since 1980 from extortion, kidnapping, threats and violence, and it is estimated that in some 30 years ETA caused economic losses in the region of 25,000 million pesetas.
In 2018 ETA announced its dissolution as a revolutionary movement, evolving its members into political organizations that have not been declared illegal and that are currently present in parliaments and local corporations. From 1958 to 2018 it has been 60 years of nightmare, especially since 1978 when they tried to make the democratic transition fail by all means at their disposal.
One aspect to highlight is that practically all the revolutionary movements for independence or not in Europe were supported by the Soviet Union as part of the non-war confrontation that took place in Europe in the context of the cold war between the United States and the Soviet Union. That is to say, the vast majority, including ETA, were Marxist-Leninist revolutionary movements, one only has to remember the ETA members with their fists raised in their hooded and beret-wearing appearances. However, there is an exception, the IRA, the Irish Republican Army, a Catholic group that had been fighting since 1916 for the independence of Ireland from the United Kingdom, which they achieved in 1922, and whose greatest support came precisely from Irish Catholic immigrants in the United States. .
Taking advantage of this opinion forum published in an MCS, I have to remember a little-known aspect that is a reason for reflection and that is that every terrorist act is 80% publicity and 20% violence, that is, without its reflection in the media. the terrorist act would hardly have the intended effect. This falls squarely into the "freedom-security" dilemma, in this case freedom of the press, and it is a very difficult dilemma to solve.
Finally, we must not forget that, among the almost 900 murders of men and women of all kinds and conditions perpetrated by ETA – more than 30% are unresolved, that is, their murderers walk the streets of Euskal Herria with impunity -, 22 children are found.
Luis Feliu Bernárdez, retired brigadier general. Academy of Sciences and Military Arts.