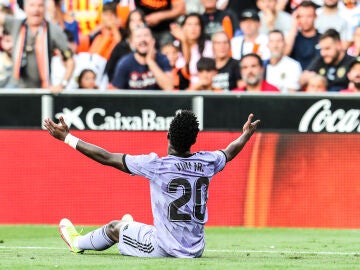 The Spanish Football Federation (RFEF) has shown through a statement its concern about the racist incidents that have happened in Mestalla with Vinicius as a target. It calls for more forceful measures and even the closure of stadiums when repeated episodes of racism occur in a stadium.
"The Federation is dismayed by what happened and understands that these attitudes must be eradicated, for this reason it urges that the protocols be activated immediately so that the most forceful measures are adopted immediately and for this reason it understands that both the committee and the State Anti-Violence Commission and xenophobia and racism in sport should take action on the matter, even closing stands every time this happens and stadiums when it is due to recidivism.
And urges the clubs to collaborate in the immediate eradication of these unfortunate events, respecting the sports rules and sanctions and not delaying them with artificial judicial resources," says the statement issued by the entity chaired by Luis Rubiales.