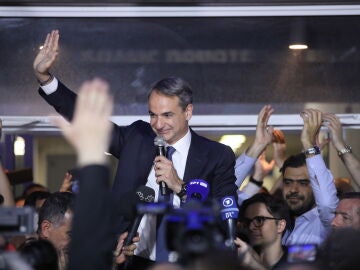 Kyriakos Mitsotakis achieves a victory that a year ago seemed impossible. The one known as "Greek Gate", which implicated the Greek prime minister last summer in a spying scandal on opponents and journalists, does not seem to have taken its toll on him at the polls. Neither was the tragic train accident that last February left 57 dead and triggered a wave of protests throughout the country over the abandonment of the Hellenic rail service.
Instead, voters appear to have rewarded Mitsotakis more for fulfilling the promise that led to his winning the 2019 general election: achieving economic stability after three bailouts and a decade of painful austerity. Today, Greece is not only at the forefront of economic growth in the EU, but has once again attracted foreign investment. Thanks to this economic boom, the conservative government has lowered taxes and raised pensions and the minimum wage.
Mitsotakis is a liberal on economics, but a tough on immigration. During the last legislature he has been the target of criticism from NGOs for closing refugee reception centers and their deportations on the fly. His government has asked Brussels for help to erect a fence on its land border with Turkey, which, as he recalls, is also an external border of the EU.
Mitsotakis was born in 1968 and comes, in the fourth generation, from a dynasty of politicians. He is a fourth-generation relative of Eleftherios Venizelos, who was active in the struggle for independence from the Ottoman Empire and was prime minister seven times. His father, Konstantinos Mitsotakis, played an important role in political life for almost 30 years, serving as prime minister from 1990 to 1993.
His older sister, Dora Bakoyanni, was the first woman to become Mayor of Athens, and Minister of Culture and Foreign Affairs. Her nephew, Kostas Bakoyannis, is the current mayor of the capital.
He attended the prestigious American College of Athens, a private school in Athens, like most Greek politicians and businessmen, and continued his studies in the US, at Harvard University (sociology) and postgraduate studies at Stanford (Master in the European unification process) and Harvard (MBA). He speaks English, French and German.
Before getting into politics, he worked in the McKinsey consultancy (1995-1997) and, back in Greece, in the banking sector until 2003.
His political career began in 2004 and his beginnings were already marked by success: he was the candidate of the conservative New Democracy (ND) with the most votes in his constituency.
He was in charge of a ministerial portfolio for the first time, that of Administrative Reform, in the Government of Andonis Samaras (2013-2015). His tenure was marked by a massive reduction in the number of officials and even massive layoffs in health and education.