It measures almost two meters in a country where the average citizen does not reach the meter seventy. He played soccer professionally, where despite being big he didn't learn to head. He wasn't talented, but he wore the Peruvian national team jersey and marked Ronaldo, Ronaldinho and Neymar as best he could. He started as a striker, but had no goal. They then placed him as a winger-midfielder, but he didn't know how to center. The central defense took pity on him, and from there he made a career. He alternated in Argentina, Belgium and Greece, but his departure to Courtois's country in 2000 gave rise to a myth: that they had sold it with another player's videos.
Luis Alberto Guadalupe Rivadeneyra, known as Cuto, has tried to be different at every step of his 47 years. After his retirement in 2015, he did not consider being a bad imitation of Pep Guardiola like so many others, nor did he put on the commentator suit. He did not become a manager or agent of soccer players. Rather, he danced with some success in the most tuned reality contest in Peru, and was encouraged to model on catwalks and pose in underwear. Six years ago, he inaugurated a family restaurant serving Creole food whose star dish, carapulcra with dry soup —a potato and peanut stew with seasoned spaghetti— is a tribute to his ancestors —the Afro-Peruvians from the city of Chincha— and to one of his war cries when dressed in short: I'm hungry!
Faced with any difficulty, Cuto has sustained himself in his charisma, of which he has inexhaustible reserves, and in his faith in Christ, which he has made his trademark. Since the pandemic, he has been running an interview program on the social networks of the newspaper with the most circulation in Peru, El Trome, called La fe de Cuto, whose success lies in the fact that retired soccer players with whom he has shared a dressing room or has confronted him tell anecdotes that are not usually tell sportswriters. Cuto Guadalupe has established himself as a pleasant conversationalist, skilled at pulling his tongue. If when he played he didn't give the public huachas, but provocative headlines, well lately too. He's back in the news, albeit in an unhappy way.
At the beginning of the week, Charlene Castro, her partner with whom she has an eight-year-old child, was captured by the cameras of an entertainment program entering and leaving a hotel with another man. A scandal for a sanctimonious society, which mocks infidelity as if it were a mortal sin and which does not conceive of any other type of love relationship other than monogamy. The host Magaly Medina, who has been profiting from gossip and the misfortune of others for 25 years, gloated over her new ampay, with a sentence: "we have finished with Cuto's faith."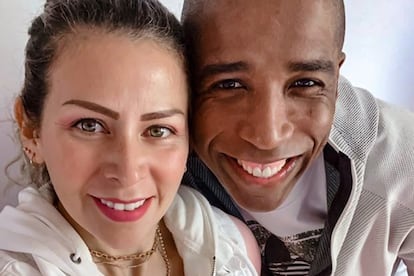 Soccer player Luis 'Cuto' Guadalupe and his wife Magaly Medina.RR.SS.
The next morning, the former Universitario de Deportes captain gave a press conference at his restaurant. The reporters went in search of an injured man, who would be capable of throwing poison darts at his partner and who would surely collapse on camera. But Cuto Guadalupe not only did not give them the pleasure, but also stood up for her. He demanded respect for the mother of her last child, said that he is not the one to judge her actions and that he only had gratitude for who she was by her side in difficult times. "I still love her (…) I also carry my cross, no one is perfect. Whatever I have to talk about with her, I'll talk about it and that's it, "he said and also confessed a scene worthy of a literary piece: he saw the ampay holding her mother's hand. To Magaly Medina for questioning her beliefs, she replied: "How have you mocked. It is not Cuto's faith, it is the faith of every human being. Faith is the most beautiful thing in life. May God bless you, but what is done here, is paid here".
Join EL PAÍS to follow all the news and read without limits.
subscribe
Opinions in networks and in every corner were divided. While there are those who highlight the atypical reaction of a man who has moved in a macho environment such as soccer, others question that the debate does not focus on banishing programs like the one on Magaly TV that live off the ampays, where those who usually receive the The worst part are the women. If they forgive the deceit, they are accused of a lack of self-esteem, and if they are the lovers, they are thrown on the pyre of public opinion. Another sector firmly believes that, instead of blaming Medina, Cuto Guadalupe "should thank him, because he found out the truth." There are those who also believe that the former player has received divine compensation for having demonized the salsa singer Yahaira Plasencia, who would have been unfaithful to her nephew, Jefferson Farfán, World Cup player in Russia 2018. There are also those who are convinced that Cuto's forgiveness It is not from the heart, but rather a public relations strategy that has been forced to avoid losing sponsors. Be that as it may, we are facing a "Chollywood" milestone.
While Cuto Guadalupe flew to Miami to air the issue, the merchants of the Gamarra shopping mall in Lima had no better idea than to design polo shirts inspired by Shakira's hits where she sings her spite for Gerard Piqué. You don't have to be a fortune teller to imagine what the stamps say: "The Cutos no longer cry, the Cutos bill", "A Cuto like me is not for girls like you". If something has become clear, it is that for Cuto Guadalupe, who shares psalms and proverbs daily, there is an unforgivable act: that they doubt his faith.
Follow all the international information on Facebook and Twitteror in our weekly newsletter.