The planet's population has already reached 8 billion, and will continue to grow at a frenetic pace, according to the Food and Agriculture Organization of the United Nations (FAO). For the year 2050, the UN forecasts 10,000 million human beings… but the planet is finite, like the pantry. Having food for all is a priority, and the challenge is huge. In a recent report, the FAO itself warns about the increasing degradation of soil and aquifer resources during the last decade, with the difficulties that this implies in feeding the world population. There is a parallel consequence of this accelerated growth: pollution.
Agriculture is estimated to account for about a quarter of global greenhouse gas emissions. To stop this drift, large corporations are committed to promoting more sustainable production processes in the field, which reduce carbon emissions, contribute to improving the health and biodiversity of the soil and reduce deforestation.
This is the case of the multinational PepsiCo, which has endeavored to take advantage of all its accumulated experience in the agricultural field to help build a more sustainable food system. The purpose of this strategy, named PepsiCo Positive, is aimed at extending regenerative agriculture practices that improve soil fertility and reduce carbon dioxide (CO2) emissions in the agricultural sector, reaching net zero emissions targets by 2040. .
For more than a decade now, the company has implemented different sustainable agriculture practices in Spanish fields, working side by side with local farmers, providing training and transferring knowledge and technologies. This support for the sector is reflected in an annual investment of 46 million euros in our country, which generates 2,200 jobs (direct crops) in the agricultural supply chain. And this type of agriculture has already paid off (pun intended): 191,000 tons of potatoes, corn, peanuts, tomatoes and other vegetables.
Give back to the ground what is yours
Now, PepsiCo has gone a step further and has begun to focus its efforts on developing a new model of agriculture that is respectful of the environment and the natural environment. It is about regenerative agriculture (AR). "This concept encompasses those agricultural production practices that try to return to the soil its elements of fertility, biodiversity and nutrients, so that in this way it can preserve all its capacities", explains the head of PepsiCo's agricultural department in southwestern Europe, Ángel Alonso.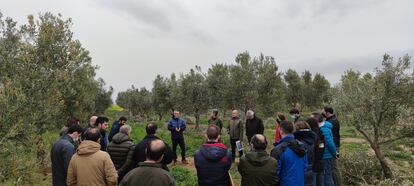 Several farmers listen to Francesc Font, head of The Regen Academy, in a forum held in April 2022 in Ariño (Teruel).
The formula thus moves away from traditional agriculture, more focused on the exploitation of the land to achieve maximum performance. The multinational intends to extend the use of regenerative agriculture techniques in Spain to reach 77,000 hectares in 2030.
The advantages of AR are numerous. The possibility of rebuilding and revitalizing the soil makes it possible to maintain its fertility in the future, and that is essential for future generations. Regenerative agriculture makes it easier for crops to have a greater capacity to absorb nutrients and carbon, to resist adverse weather conditions, which results in a healthier and, therefore, more productive field.
Digitization, organic fertilizers and training
To successfully move towards AR, PepsiCo uses digital tools such as artificial intelligence and big data. Through the exclusive CropTrak application, based on this technology, it provides valuable information to the farmer to optimize their exploitation. The Weekly Irrigation Council program, for example, allows farmers to carry out efficient water management.
Ángel Alonso admits that the use of these technologies is key in this new agricultural concept, since they provide a huge amount of data with which to analyze a multitude of parameters. Digitization contributes, among other things, to multiplying efficiency and increasing production, reducing emissions, better combating pests…
Even if it costs, we are convinced that it is the right path for a positive agriculture. It is the only way to be sustainable both from an environmental and economic point of view

Ángel Alonso, head of PepsiCo's agricultural department in southwestern Europe
The company has also promoted a forum of leading horticulturists in sustainability in which they share knowledge, training and good AR practices. From PepsiCo, Ángel Alonso recognizes that, in order to implement this agricultural model, it is key to "create a specialized work network" with farmers, and share new practices with them.
These professionals must acquire new knowledge and skills around working on the land, and adapting to these changes is not an easy task. The process is complex, because adopting these new methods takes a long time. After all, AR projects are for the medium and long term, and their effects are not visible until at least five years have passed. "Even if it costs, we are convinced that it is the right path for a positive agriculture. It is the only way to be sustainable both from the environmental and economic point of view", Alonso emphasizes.
Beyond these state-of-the-art tools that facilitate the optimization of field work, regenerative agriculture resorts to other techniques such as the use of organic fertilizers that replace chemicals, the efficient use of water, the planting of intermediary crops that help to fix nitrogen in the soil and avoid erosion, grazing with animals in certain plantations and crop rotations.
The exclusive CropTrak application, based on 'big data' technology, allows the farmer to have efficient irrigation control.
Another deeply rooted practice is the one linked to minimum tillage. In this case, Ángel Alonso explains, a series of specific implements are used for certain crops that barely till the soil, but they do allow us to eliminate weeds or generate a suitable minimum texture on the surface. All these actions go in the same direction: improve soil fertility and reduce the carbon footprint.
A fundamental element in this strategy is to make farmers aware that this change is possible. To do this, PepsiCo relies on advice and training from specialized partners such as The Regen Academy, an organization founded by the Catalan farmer and agricultural engineer Francesc Font. After a few months in Australia and eight years applying regenerative agriculture on his family farm (of nine generations), a year ago he created this "training academy based on sharing our knowledge and experience in AR in person and online", as he defines her.
PepsiCo collaborates with Francesc and his team to carry out training on regenerative agriculture and thus extend these practices among farm workers who are suppliers to the company. One of these forums with The Regen Academy took place in April 2022 in Ariño (Teruel). About thirty potato and corn farmers from Castilla y León, La Rioja, the Basque Country, Aragon, Portugal and the south of France participated. "We share what we have learned in recent years about how to produce in a way that improves the soil and biodiversity, regenerates them," recalls Font. "In these experiences we question practices used for years -by us, too- to highlight the need to understand the soil and try to stop damaging it."
Sustainable projects throughout Spain
Success stories emerge throughout the Peninsula: Guillermo Holgado, from the Indycons Cooperative (potato supplier from Torrecillas de la Abadesa, Valladolid) uses solar energy for efficient irrigation of his crops; Manuel Aires, a farmer and partner of the supplier Floyma in Encinas de Abajo (Salamanca), which in the planting phase produces mini-dams on the land that prevent runoff and soil erosion, and Antonio García, a farmer from the Region of Murcia who produces tomatoes for Alvalle gazpacho, integrates efficient drip irrigation practices and biological pest control with beneficial insects that avoid the use of insecticides.
Some pioneering initiatives
To facilitate this change, PepsiCo has funded 14 projects in 11 countries. One of them is in Spain. This is a pilot program that is being carried out on a 10-hectare farm in Arévalo (Ávila) and that, for five years, will investigate the best regenerative agriculture practices in a potato crop: crop rotations, which They include intermediary and cover crop plantations, minimum tillage techniques, organic fertilization… All this involves a process of measuring different parameters with digital tools that indicate how the characteristics of the soil evolve for the sake of this regeneration.
The company will monitor the results of all these pilot projects to support and guide farmers in this transition. "With our productive practices, based on improving the natural fertility of the soil, and therefore its organic matter content, we managed to capture more carbon than we emit, improve the rainwater retention capacity and stop erosion, a a very big problem to which we do not pay the attention it deserves", explains Francesc Font, AR consultant for PepsiCo.
In short, very innovative ideas that demonstrate the commitment of the industry and farmers with a new way of conceiving agriculture, more in line with the new times and with the future of the planet.
Support for rural entrepreneurs
Women participating in the workshop on regenerative agriculture held in April in Lerma (Burgos).
In Spain, PepsiCo works through its Foundation together with the Federation of Rural Women's Associations (Fademur) and its Ruraltivity entrepreneurship launch to promote more than 327 projects, with a contribution of $300,000 (about 278,000 euros). In addition, within the PepsiCo program it has awarded 10 scholarships of 5,000 euros each to promote ten additional projects. PepsiCo collaborates with Fademur through training, with regenerative agriculture as an essential theme. In the year 2022, 130 rural women were trained together with PepsiCo, and in 2023, the company will also work to shorten the generation gap that exists in the countryside.